A perfect fall snack to curb those autumn cravings! This keto pumpkin spice loaf tastes like pumpkin pie in bread form – and I am here for it! Sugar, grain and gluten free!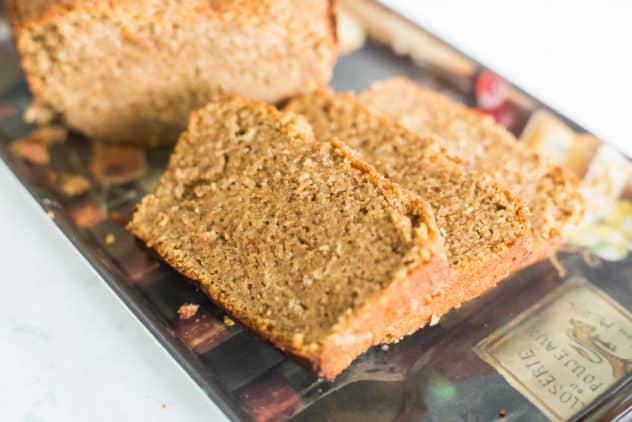 When you are making this pumpkin spice bread – make sure to use PURE pumpkin puree – none of that pumpkin pie filling as it will have too much sugar in it. Pumpkin itself is incredibly low carb so it's important to get the right kind!
If you don't have any brown sugar substitute – you can always use white sugar substitute. It will still work for sure – perhaps add a tsp of black strap molasses to get the taste of the brown sugar. I ended up using Splenda, which is a mix of sugar and sucralose which I dont recommend for keto.. but I have tried something similar with Sukrin Gold and it was pretty darn delish!
Other than that – this recipe is super simple! I really enjoyed it and I hope you do to!
If you like this one, check out my keto pumpkin pie or keto pumpkin cheesecake!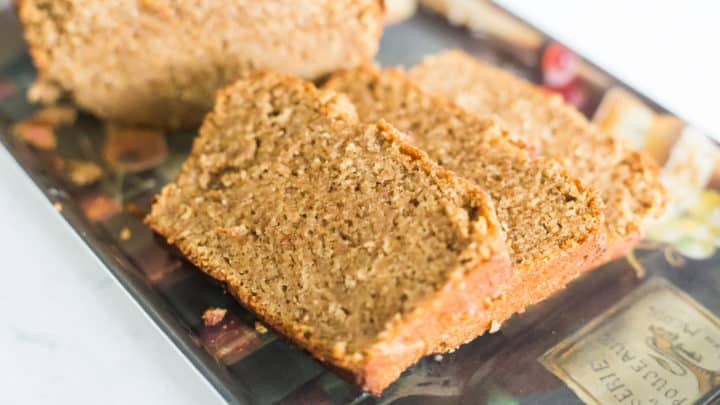 Yield:

18
Keto Pumpkin Spice Loaf || Pumpkin Bread
A delicious keto pumpkin spice loaf! A perfect sweet treat to curb those fall cravings! Gluten, grain and sugar free!
Ingredients
1/2 cup (130g) pure pumpkin puree
1/4 cup (50g) butter - melted
2 eggs
1 tbsp cinnamon
1 tsp nutmeg
1/4 tsp ground cloves
1/2 tsp ground ginger
1 tsp allspice
1 tsp vanilla
5 tbsp brown sugar substitute
2.5 cups (250g) almond flour
1.5 tsp baking powder
1 tsp xanthan gum
1 scoop (30g or 1/4 cup) protein powder
Instructions
In a mixing bowl, whisk together the pumpkin, butter and eggs.
Add in the spices, sugar sub and vanilla. Mix again.
Pour in the almond flour, baking powder, xanthan gum and protein powder. Mix until it's a thick batter.
Spoon into a lined (or silicone) loaf tin.
Bake at 350°F / 175°C for 40 minutes.
Cool and enjoy!
Notes
This makes around 18-20 slices.
Nutritional Information per slice:
CALS: 117
FAT: 9.8
CARBS: 4
FIBRE: 1.9
NET CARBS: 2.1
PROTEIN: 5.1