I'm fairly obsessed with using egg whites to make things rise lately. It's so easy and they can get real high (and then flatten like a pancake). So today I tried to make a keto cheese souffle!
Whenever I heard of a souffle before, I always was under the impression that it was incredibly HARD to make. Then I saw an episode of Masterchef and thought I'd never be able to make it but they are actually pretty easy, as long as you can get the egg whites to whip perfectly.
The key to a good souffle is whipping the egg whites. You will want to make sure that your bowl is dry and that you don't get any egg yolk in the whites when you separate them. Even just a small amount of water or other substance is the difference between a good whip & disaster. You could add a 1/2 tsp of cream of tartar to stabilize the eggs if needed, however I did not.
I would whip up the egg whites last, as you don't want them to fall if you wait too long.
Everything else is pretty easy!
If you like this recipe, make sure to try our keto Yorkshire puddings!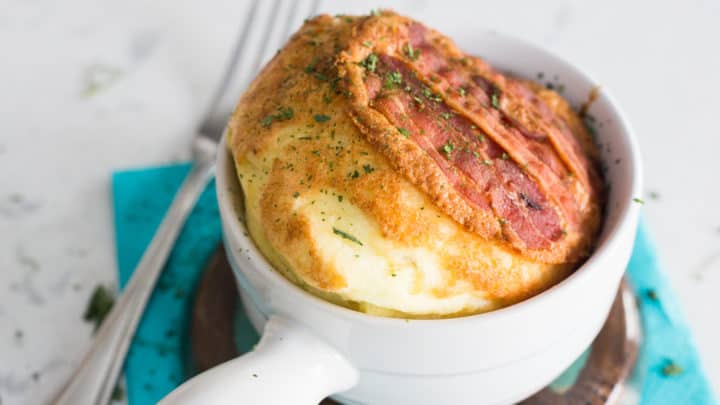 Yield:

4
Keto Cheese Souffle
A perfect keto souffle with some cheese and bacon! Gluten, grain and sugar free.
Ingredients
4 eggs - separated
2 tbsp butter
2 tbsp almond flour
120g shredded Gruyere cheese
1 cup heavy cream
6 slices bacon
Instructions
First things first, separate your eggs.
In a pan on medium, heat up your butter. When it fully melts, incorporate 1 tbsp of your almond flour until the it dissolves into the butter.
Whisk in your heavy cream and bring to a boil. Stir frequently. Add in your other tbsp of almond flour and whisk until it's dissolved.
Take off the stove and let it cool for 2-3 minutes, then slowly pour the mix into your egg yolks. Do this slowly and little by little. You don't want the egg yolks to scramble..
Once the egg yolks and cream mixture are fulled mixed together add in your shredded cheese and set aside.
Take a hand or stand mixer and whip your egg whites until they are stiff peaks.
Slowly spoon some of the whites into the yolk/cream mixture. Fold it in carefully and little by little. Then add some more, fold it in, add more, fold etc.
Grease your ramekins. Pour you mix into ramekins.. top with bacon!
Bake at 350 for 30-40 minutes. Keep an eye on it - it's done when it's raised and the tops have browned.
Take out and enjoy immediately!
Notes
This makes 4. Nutritional information (per souffle)
CALS: 537
FAT: 49.6
CARBS: 3.6
FIBRE: 0.4
PROTEIN: 21.4