Tiramisu.. a delectable dessert thats enjoyed around the world. It's usually made up 4 layers, including lady fingers dipped in espresso and a light, fluffy, whipped topped dusted with cocoa. It's pretty darn amazing. So of course we had to make a keto tiramisu.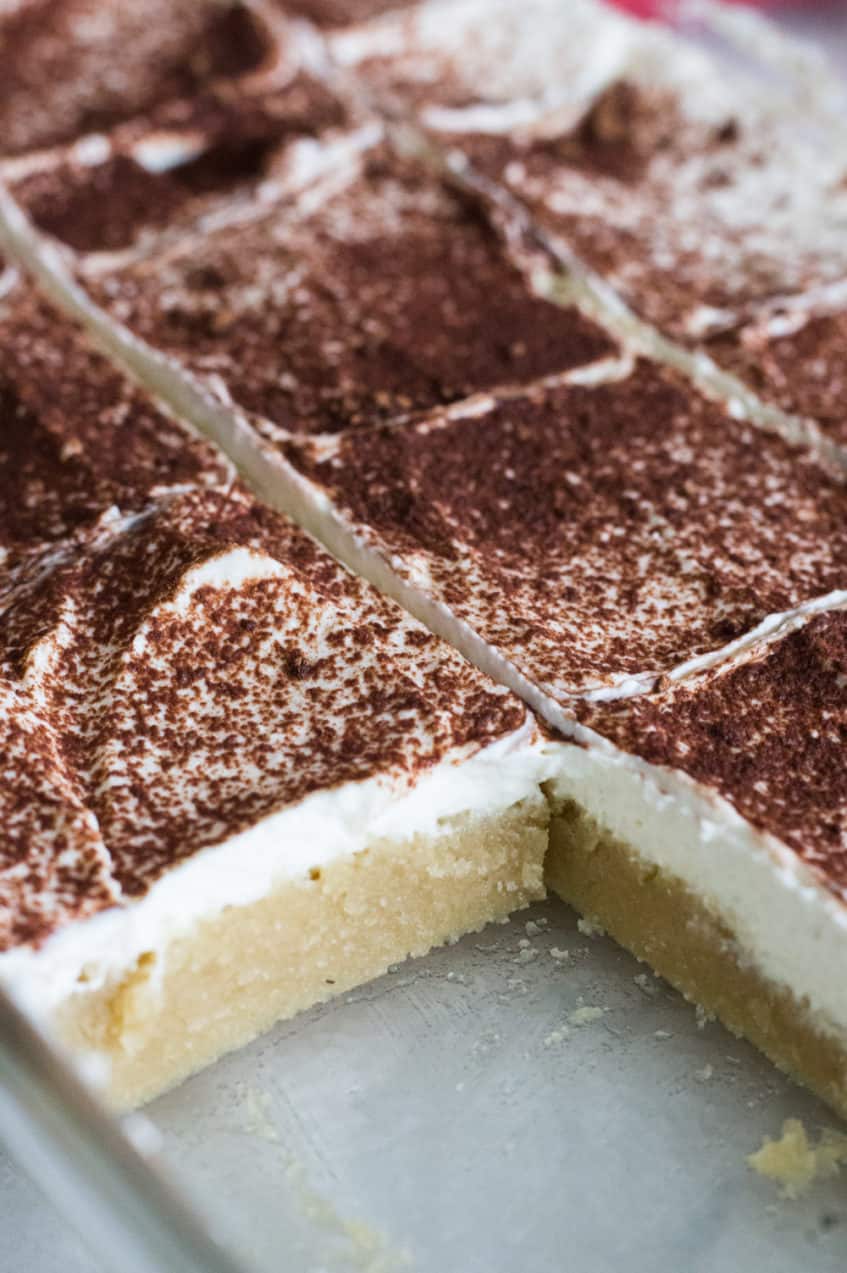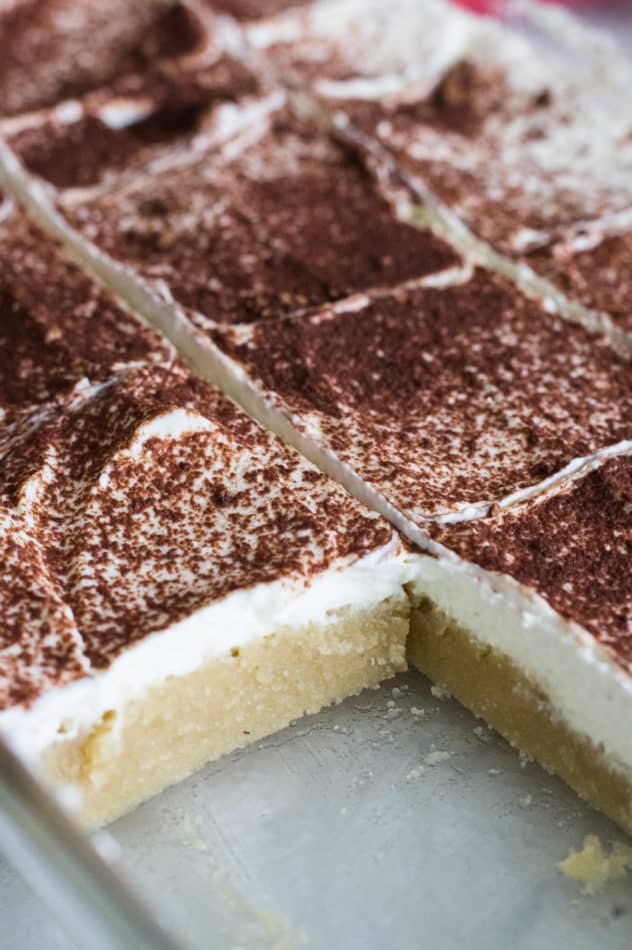 Now this version is a little bit different and a little different than 'traditional' tiramisu. I figured with the almond flour, it might be a bit TOO heavy with more than one layer, so I only did 2 layers. I still loved it, it had that espresso/coffee taste with a SUPER fluffy cream topping.
Its important to let this chill for a while otherwise the first layer will crumble when you try to pick it up – best if you let it sit overnight (but a minimum of 4 hours)
If you like this recipe, make sure to check out my keto tiramisu cake or my keto Mississippi mud pie!
An easy and delicious Tiramisu. It may not be 'traditional' but it has all the tastes of coffee, cream and a soft crumbly crust.
Ingredients
Layer 1
1/2 cup butter
1/4 cup coffee (or 1 shot espresso)
1 egg - beaten
Layer 2
1 cup heavy cream
1 cup mascarpone
1 tsp vanilla
cocoa (for dusting)
Instructions
Over a double broiler - melt your butter. Stir in your sugar substitute. Pour in your coffee/espresso and whisk until the sugar sub has dissolved.
Take off the heat and stir in the beaten egg. Pour in the almond flour cup by cup, stirring until all the almond flour has been mixed together.
Spread on the bottom of a cake (or casserole) dish.. Stick it in the fridge while you make the second layer.
In a clean bowl, pour in your heavy cream, vanilla and sugar substitute. Using a hand or stand mixer, whip the heavy cream until it is stiff peaks. Then spoon in your mascarpone and mix.
Layer the cream mixture on top of the almond flour and use a spatula to flatten.
Dust the top with cocoa and let it sit for 4 hours! (or overnight)
Enjoy!
Notes
This makes 15, but you can make them smaller to cut down the CALS etc.
NUTRITIONAL INFORMATION:
CALS: 287
FAT: 27.5
CARBS: 6.6
FIBRE: 2.4
PROTEIN: 6.7