So everyone seems to like my chocolate chip muffin recipe, so I turned them into keto blueberry muffins. It is a little bit different but equally delicious!
I think one of the best things about this recipe is that it uses coconut flour instead of almond. Most muffin recipes are make with almonds, so it's good for those who have an allergy to almonds or who prefer coconut.
If you want to take this up a notch to make it even MORE fluffy, I HIGHLY recommend adding 1 scoop (about 30g) of whey isolate. It will make the muffins rise more as well as make them more muffin-like!
Like these muffins? Make sure to check out my chocolate chip muffins and peanut butter banana muffins!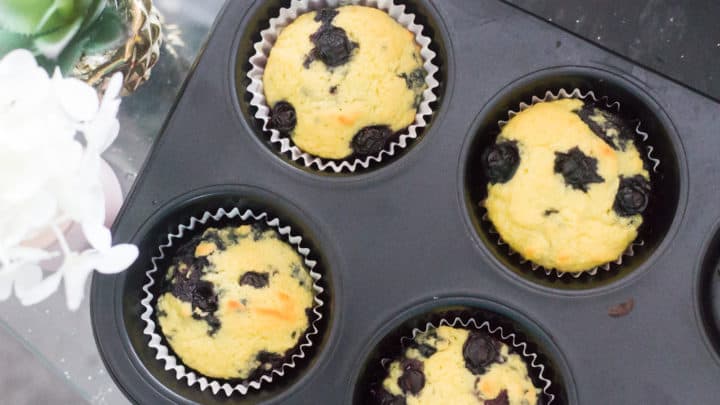 Yield:

6
Keto Blueberry Muffins
Keto blueberry muffins made with coconut flour! Only 3 eggs so it's not eggy at all and perfect for diabetics. Gluten and grain free.
Ingredients
1 tsp baking powder
3 tbsp coconut oil (melted), olive oil or melted butter
3 eggs
1 package (125g) blueberries
Instructions
This recipe is super easy to make, all you have to do is stir the ingredients together, place in a lined muffin tin and bake at 350f/176c for 30 minutes!
Take out and enjoy!
Notes
This makes roughly 6 muffins.
Nutritional Information per muffin
CALS: 128
FAT: 10.1
CARBS: 5.8
FIBRE: 2.2
NET CARBS: 3.6
PROTEIN: 4