Keto bread pudding – a god among desserts!
Ok, who else loves bread pudding? I know I'm not the only one who will be craving it come holiday season, so it's time it was made KETO so we can enjoy this delicious and scrumptious dessert!
So this recipe does take a little time because you have to make the bread before the pudding. However if you have any keto-friendly breads already made, you can definitely skip over the bread recipe and go straight to the pudding!
I left my bread pudding in the oven for 90 minutes, BUT my oven always fluctuates, so I HIGHLY recommend a minimum of 45 minutes. Check on it then to see if the water has boiled off, if not, keep it in the oven and check on it every 10 minutes. If you smell burning, TAKE IT OUT.
Other than that, this recipe is super simple and easy to make!
If you like this recipe, be sure to check out my favourite keto bread recipe, cheese bread, pumpkin cake or flan!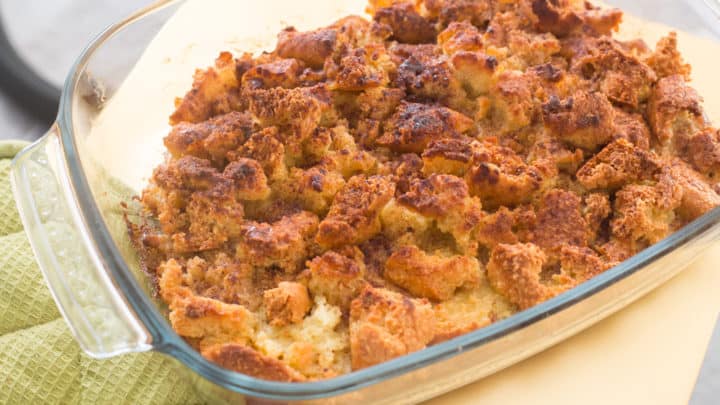 Yield:

8
Keto Bread Pudding
Total Time:
1 hour
5 minutes
Ingredients
BREAD:
1/2 cup (100g) melted butter
1/2 cup (118ml) water
2 eggs
1 tbsp vanilla
1/4 cup (50g) sugar substitute
2 cups (200g) almond flour
1 tsp baking powder
PUDDING:
1 cup (236ml) heavy cream
2 eggs
1/4 cup (50g) sugar substitute
1 tbsp vanilla
2 tbsp melted butter
1 tsp cinnamon
1/2 tsp nutmeg
Instructions
Let's make the bread first! In a mixing bowl, stir together your melted butter, eggs, water, vanilla and sugar substitute.
Whisk in your almond flour and baking powder.
Pour into a greased or lined loaf tin and bake at 350°F/175°C for approximately 45 minutes or until the bread is done when you stick a toothpick into the centre and it comes out clean. Set it aside and let it cool.
In another mixing bowl, whisk together your pudding ingredients.
Once the loaf has cooled, either cut or tear it into chunks. Place the chunks into a casserole dish.
Pour the pudding mixture onto the bread. Bake at 350°F/175°C for 45 minutes. Once done, top with extra cinnamon and a sprinkling of sugar substitute!
Notes
This makes approximately 8 servings.
Nutritional Information per serving
CALS: 451
FAT: 44.6
CARBS: 7
FIBRE: 3
NET CARBS: 4
PROTEIN: 9.9