Ok I LOVE cherry cake. It is amazing. I usually only get the one in box form though because I find its the best with the little red dots in the cake and it's pink colour! I love it! However cherries are high in sugar, so we needed to find an alternative for this delicious keto cherry cake.
Now you can use cherries if you'd LIKE.. In a previous recipe, I mentioned that 100g of cherries is only 12g of carbs… However, I'm back in Ireland.. I can't find fresh cherries, even at the market and the canned ones were blah.
So I used cherry extract instead! I bought it back in Canada (at Michaels) so I have been pretty excited to use it. I gotta say, the apartment smelled amazing after baking this cake and it tastes great too!
Glaze – OPTIONAL.
If you like this recipe, make sure to check out my keto banana loaf, keto banana muffins or keto cherry mug cake!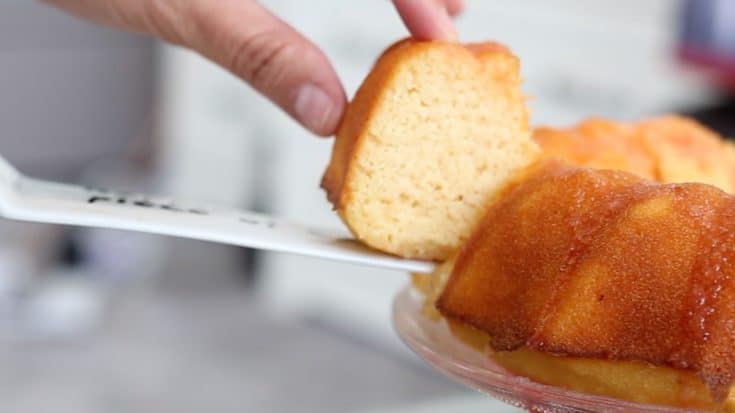 Yield:

10
Keto Cherry Cake
A cherry cake without all the sugar. A delicious keto cherry cake with a sweet glaze. Grain, gluten and sugar free.
Ingredients
CAKE:
1/2 cup (120g) sour cream
1/2 cup (100g) melted butter
3 eggs
1 tsp baking powder.
GLAZE:
Instructions
In a mixing bowl, whisk together your wet cake ingredients plus the sugar substitute. Pour in your almond flour & baking powder and mix thoroughly.
Pour into a greased bundt pan and bake at 350°F/175°C for 30 minutes or until done.
After your cake has cooled. Heat up your water, sugar substitute and cherry extract on medium-low heat. Stir frequently and make sure all the sugar substitute granules have dissolved.
Pour the glaze onto the cake. It should start to dry immediately.
Cut and serve!
Notes
This makes approximately 10 slices.
Nutritional Information per serving
CALS: 246
FAT: 23.1
CARBS: 5.5
FIBRE: 2.4
NET CARBS: 3.1
PROTEIN: 7.1