A keto cheese bread! One of my favourite things in the world is cheese bread. I could eat it for days! Ive tried several different breads but, sadly, they don't hold up and always taste too eggy.
Up until a few weeks ago, I was defeated, thinking I would never perfect my delicious cheese bread – UNTIL – I somehow, magically, made my keto bread rolls! That's when I knew, I could have unlimited options with this bread.
It's just perfect, since the protein powder is lighter than almond flour, it gives the bread the ability to rise more.. and because it's unflavoured, it masks the almond flour taste.
So after posting my bread roll recipe, I've gotten some feedback, so i will share a few problems and solutions people have had.
1. Bread was too hard: Most likely your oven was either TOO hot or you used too much protein powder. It's best to measure the weight of the flours instead of using 'cups' measurement. That ensures you have the right ratio.
2. Bread tasted awful: This could be two reasons why. A) you basically don't like it or B) you used the wrong protein powder. The best protein powder to use for this is one with NO additives. Many of them have added sugars, maltodextrin and a bunch of other things that can change the consistency and taste.
3. The batter is too runny: If you are making a loaf, it should be fine to keep it as it is. If you are trying to make buns, let your dough sit for 5m minutes for it to thicken up. Also make sure it is thoroughly mixed. Sometimes I find clumps of almond flour at the bottom of the mixing bowl. If it's still too runny to form buns, add another 1/4 cup (25g) of almond flour.
Now it's time for this bread recipe! I hope you all enjoy – OH and this is totally toastable!
If you like this bread, check out our white bread, brown bread, bread rolls and hamburger buns!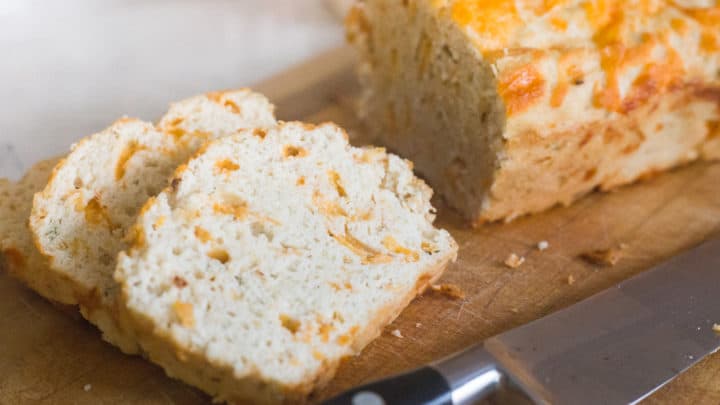 Keto Cheese Bread - Toastable!
Ingredients
2 tsp baking powder
salt
1 tsp oregano
2 tbsp garlic powder
1 1/2 tbsp onion powder
1 tsp dried parsley
1/2 tsp chili flakes (optional)
1 cup (100g) shredded cheddar
1 cup (236ml) warm water
Instructions
In a mixing bowl, whisk together your almond flour, protein powder, salt, baking powder, xanthan gum, oregano, garlic powder, onion powder, parsley and chilli flakes.
Pour in your warm water and use a spatula to mix thoroughly.
Finally, add in your cheese and stir again.
Pour into a silicone or parchment - lined loaf tin.
Bake at 375°F / 190°C for 30 minutes.
Take out and let cool.
Slice and enjoy.
Nutrition Information:
Yield:
18
Serving Size:
1
Amount Per Serving:
Calories:

120
Total Fat:

7.8g
Carbohydrates:

5.3g
Fiber:

3g
Protein:

9g