A delicious brown bread that can be used for sandwiches, toasting or even by itself!!
Now, you may notice, this recipe is incredibly similar to my 'white bread' recipe. In fact, it's nearly identical, but the one difference is that this bread has yeast in it. I know, I know, it's not typical 'multigrain' or anything but with the addition of yeast, it creates a taste similar to brown bread, while if we leave it out, the taste is more white bread. So that is how I am naming them.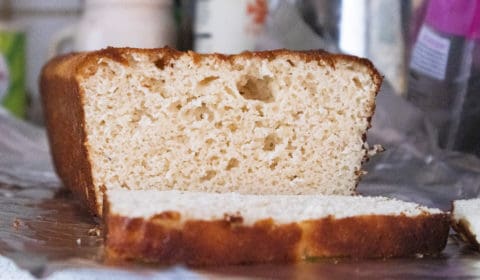 I always say this, so I will say it again. When using yeast, it needs sugar to rise. You can use inulin, which is keto (but also $$$) but I used sugar because it is cheaper. AGAIN – the carbs from the sugar DO NOT COUNT. The sugar is eaten by the yeast to make carbon dioxide, hence how it rises. It should not affect your blood sugar levels.
Let's quickly talk about protein. In normal wheat bread, gluten is the protein, so when we take it out, we need some protein to replace it. The best way – protein powder. I use whey because it's incredibly versatile, but I get so many comments saying how whey will spike insulin and that too much protein will kick you out of ketosis.
While both are true, there are many variables and the amount of whey protein per serving (slice of bread) is around 12g.. less than a chicken breast. Each person is different, but to kick yourself out of ketosis with protein, you'd have to eat more than half the bread and definitely MORE than your macros suggest. Now, again, whey does spike insulin, which could be concerning to those with diabetes or insulin resistance, but let's keep in mind that whey comes from milk and is also in cheese, sour cream and yogurt. Something most consume on keto.
If you don't want to use whey – you could try casein, pea or another type of vegan protein powder. However I have NOT tried it with anything other than soy (and it did not work!). So keep that in mind. Someone did try the bagels with egg protein powder and they said it was delicious.
Ok I will stop talking now!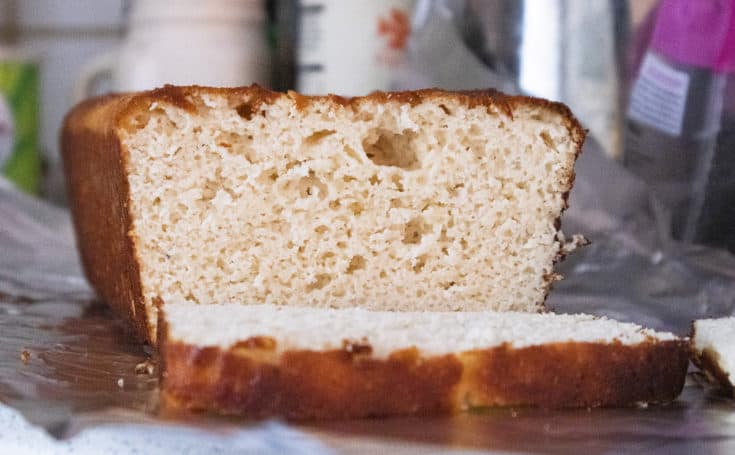 Yield:

16
Keto Brown Bread
Total Time:
1 hour
15 minutes
This delicious brown bread takes only 5 minutes to whip up and tastes like the real thing. Use it for sandwiches, toast or by itself! Gluten and grain free.
Ingredients