Ok, so there are a few things I need to go over before I dive deep into this recipe.
First things first, I suck at baking bread. The first time it came out flat as pizza and uncooked inside. It sucked and wasted a ton of ingredients.
Second try (this one) is a lot better. It's still not perfect and I will be working on it to bring you guys a fluffy one later, but for now – this one is actually pretty decent. It has the same consistency as a real loaf!
As for the taste, it is kind of bland (mainly because its just almond flour and protein) but tastes so good with butter! You could also put some keto jam or peanut butter on it!
For any Canadians out there – it has a VERY similar taste to the keto bun from Burgers Priest!
Second to last – yes there is sugar in here, BUT yeast feeds on sugar.. so it is eaten and should have absolutely no impact on carb count.
And lastly, I baked mine in a muffin tin to hold its shape but it should be fine if you scoop the dough into little rolls in a lined cake or sandwich tin. Just run your hands through some warm water and shape them!
My first cookbook – Keto Cravings – is on Amazon now!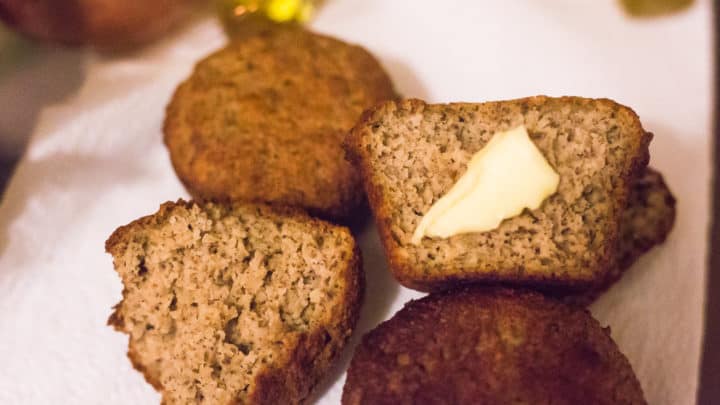 Low Carb Bread Rolls with Yeast
Easy keto bread rolls made with yeast! Gluten and grain free!
Ingredients
2 cups (200g) almond flour
1/2 cup (35g) whey protein
1/4 cup (45g) ground flaxseed
1 tsp xanthan gum
1/4 cup (50g) sugar (do not worry – the yeast eats the sugar)
2 tsp instant yeast
1 cup (235ml) warm water (between 105 -110°F/ 40-45°C)
2 tbsp (25g) butter – melted
Instructions
In a clean and dry mixing bowl, whisk together your flour, protein powder, flaxseed, instant yeast, sugar and xanthan gum.

Pour in the water and melted butter.

Use a spatula or stand mixer to mix the dough together. Once the batter is mixed, stop mixing. No need to knead or mix it for a long time.

Either scoop the dough into a greased muffin tin OR make rolls inside a parchment paper lined cake tin.

Cover with seran/cling wrap and place a dry towel on top. Make sure the dough is in a warm area. Leave for 30 minutes.

After 20 minutes of rising, preheat your oven to 400°F / 200°C.

Once 30 minutes rolls around and the dough has significantly increased in size, cover with foil and place immediately in the oven.

After 15 minutes in the oven, take off the foil and bake for an additional 5 minutes. Once the top is a nice brown, take it out!

Nutrition Information:
Yield:
9
Serving Size:
1
Amount Per Serving:
Calories:

188
Total Fat:

15.9g
Carbohydrates:

6.1g
Fiber:

3g
Protein:

8.4g