Who doesn't love a donut? But with ALL that sugar, gluten and wheat, it's time there is an easy and decent keto donuts recipe. The best part of this recipe is that not only is it EGG free, but you'll be able to alter it anyway to satisfy your sweet tooth.
One thing I will mention is to make sure that your baking powder is not bad. I think I could get a bit more height to these donuts if I used fresh baking powder. I did the baking powder test and it wasn't a big fail, but I definitely need some new baking powder.
But other than that, this recipe is SO easy. I will link below as well what silicone donut pans I used. I bought these at 7 bucks for TWO and they arrived within 3 business days!
As for the chocolate, I used Lily's chocolate and melted it in the microwave!
I think the best part of this recipe is that it's so versatile. You can add anything so many things to make them a delicious gourmet donut.
Hope you guys enjoy this recipe! Feel free to check out my keto cake bites or my keto chocolate cake!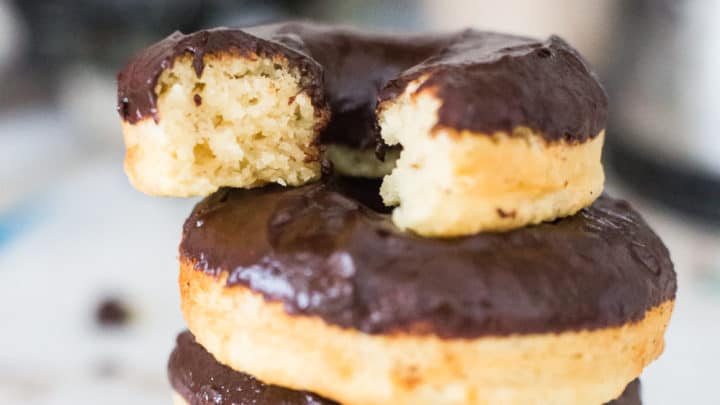 Yield:

5
Basic Keto Donuts Recipe || Egg Free
Time to enjoy donuts without all the guilt! Sugar, grain and gluten free. Only 1.8 net carbs per donut! So versatile!
Ingredients
2 tsp baking powder
1 tsp xanthan gum
3 tbsp sour cream
2 tsp olive oil (or butter)
1 tsp vanilla
1/4 cup (60ml) water + 2 tbsp
1 drop OOOflavors vanilla cupcake (OPTIONAL)
Instructions
In a mixing bowl, whisk together the almond flour, whey isolate, sugar substitute, psyllium husk, baking powder and xanthan gum.
Stir in the sour cream and olive oil (or butter). It won't fully mix together but mix for about 30 seconds.
Pour in the water and vanilla. Mix thoroughly.
Wet your hands and take a golf ball sized chunk of dough and place it into your donut pan. Use your fingers to smooth over the top of the dough and make sure it fills 3/4 of the way up to the top of the pan.
Continue to place the dough into the donut pan until you have no dough left.
Bake the donuts at 350°F / 176°C for 20 minutes.
Take out and let cool.
Heat up your chocolate. You can use a double boiler or place the chocolate in a microwave save bowl along with 2 tsp of water and melt for 1 minute, stirring every 15 seconds. Make sure it is fully melted. It will be shiny, smooth and fairly liquidy.
Once the donuts are cooled, dip the top into the chocolate.
Let cool and then enjoy!
This makes roughly 5 donuts.
Notes
This makes roughly 5 donuts.
Nutritional Information per donut:
CALS: 230
FAT: 17.5
CARBS: 6.8
FIBRE: 5
NET CARBS: 1.8
PROTEIN: 10.9