Happy 4th of July my American friends! Today I wanted to celebrate by creating something deep fried – it's summer – it's carnival time – so I figured I'd make a keto funnel cake!
So this recipe is very similar to my keto beignets recipe. It's based off of the fathead dough recipe but added protein powder to make it fluffy and easily fry-able.
Now there are two ways you can deep fry this.. Normal funnel cakes are piped right into the deep fryer… You can do this, but I found it a bit difficult as the cheese made it a bit too hard to pipe. However if you can do it this way – great!
I decided to take a chunk of dough and roll it into a snake before forming a pinwheel and dropping it into the beef drippings. That was way better for me as it was able to retain its shape!
It's best to fry it on medium as if you fry it on high, not only could that a fire hazard, but it will cook the outside too fast and the inside will still be stringy. Do. Not. Want. Fry on medium for 5-7 minutes!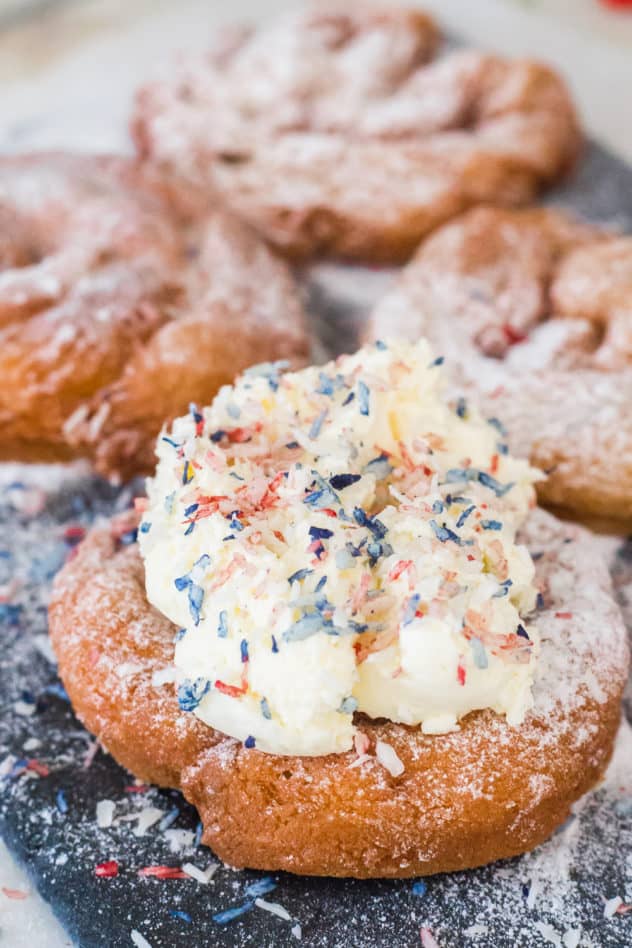 Top with your favourite things such as whipped cream, berries or even coconut sprinkles!
If you like this recipe, make sure to check out my keto beignets!
Enjoy your favourite fair food on keto! Tastes JUST like the real thing. Only 2 net carbs per cake and you can top it with whipped cream, berries or coconut sprinkles!
Ingredients
1.5 cups (170g) mozzarella cheese - melted
1 tsp baking powder
1 medium egg
1 tbsp vanilla
Oil or drippings for frying
Instructions
In a mixing bowl, whisk together the almond flour, protein powder, sugar substitute, and baking powder.
Pour in the melted mozzarella (you can melt it in the microwave or double boiler)
Mix together lightly before cracking in the egg, and pouring in the vanilla.
Use a spoon to mix thoroughly. Your dough should be thick and sticky. Make sure no clumps of cheese remain.
Heat the oil/drippings in a deep pot over medium heat.
As stated above, you can pipe the dough into the oil, when it's hot enough, or you can separate the dough into 8 chunks.
Roll the dough into a snake about 1-inch thick. You will need extra protein powder here so you can roll it without sticking
Roll the snake into itself to create a pinwheel-circle.
Pinch the end of the pinwheel to the inside dough.
Drop into the oil/drippings and fry for 5-7 minutes, flip half way through. The cakes should be a nice golden brown when done.
Take out of the fryer, and let them cool. Continue frying the rest of the dough.
Top with powdered sugar substitute and your favourite toppings!
Notes
This makes roughly 8 funnel cakes
Nutritional Information per cake:
CALS: 163
FAT: 12.1
CARBS: 3.8
FIBRE: 1.5
NET CARBS: 2.3
PROTEIN: 12.3