Hanukkah starts tomorrow and if you're still continuing the low carb diet throughout the holidays, then seeing some of the traditional potato latkes may be tempting! But don't you worry – I have made keto and low carb cauliflower latkes for your Hanukkah enjoyment!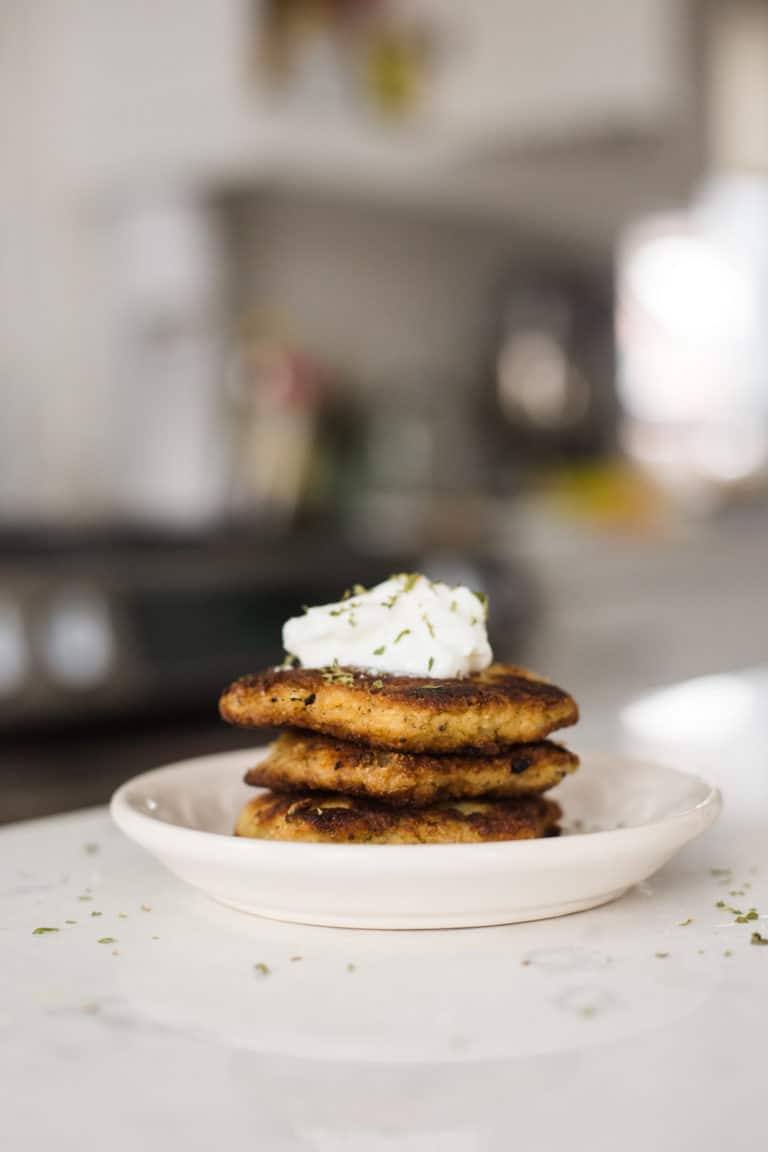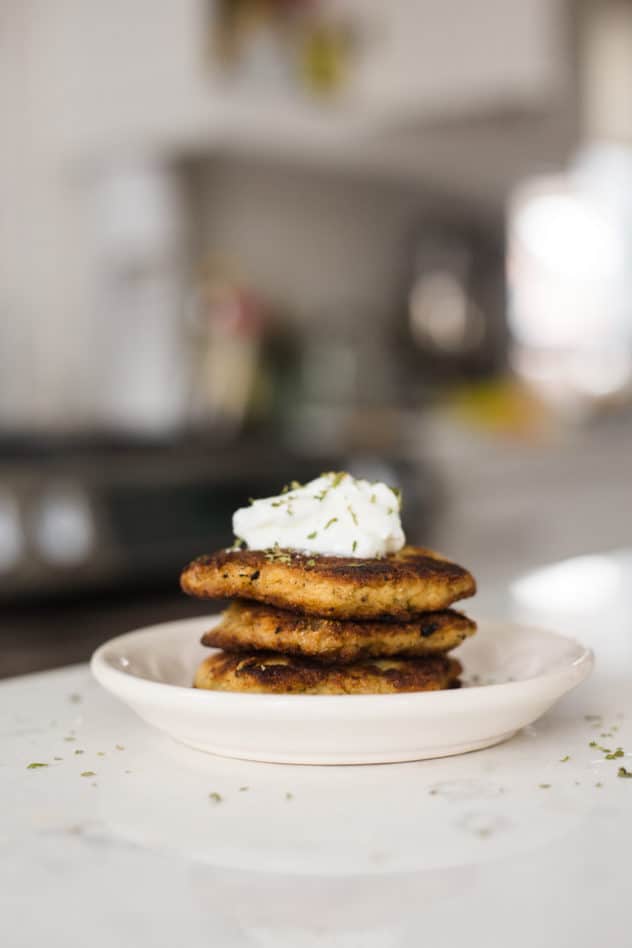 Now these are fairly easy to make but the recipe can be a little tedious, like regular latkes. You'll need to boil & dry out the cauliflower before you are able to make them into latkes. If you don't then it may have too much moisture and fall apart when frying.
The way I did it, was to boil the cauliflower rice in water and then continue to cook it until the water was evaporated before squeezing it with a cheese cloth to get rid of any excess moisture. After that I'd let it dry out a bit on the counter.
Now regular latkes use breadcrumbs or matzo meal to bind the pancake together.. Since they are fairly high in carbs, I am replacing it with almond flour.
When you are frying the latkes, you'll want to use an oil with a high smoke point. If you don't, you risk starting a fire or burning the heck out of your latkes.
You also want to make sure that the heat isnt too high. You want it to be on medium or medium low. If it begins to brown too fast (like within 30 seconds), turn it down a little bit.
Other than that, this recipe is super simple. If you like this recipe, check out my zucchini fritters!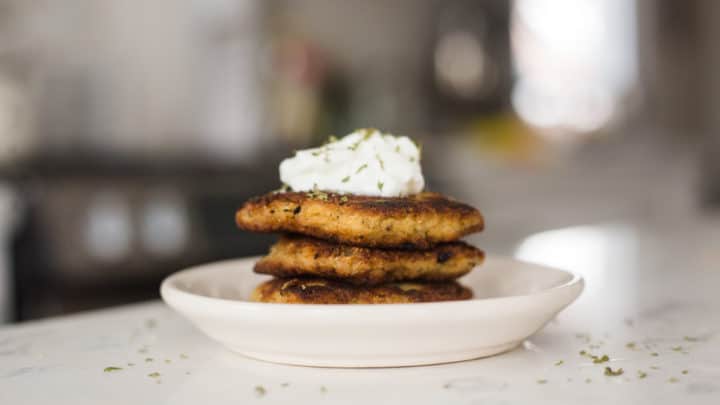 Yield:

10
Cauliflower Latkes (Keto & Low Carb!)
Stick with the low carb diet through the holiday season with these keto cauliflower latkes! Easy to make and very yummy!
Ingredients
1 medium cauliflower - riced (approx 400g)
1/2 medium onion - chopped
1/2 tsp salt
1.5 tsp pepper
1 egg
2-3 tbsp almond flour
1 tsp garlic powder (optional)
1 tsp parsley
1.25 cups (300ml) water
Oil for frying
Instructions
In a frying pan, mix together the riced cauliflower and water together.
Place the pan over medium high heat and boil until all the water has evaporated. The cauliflower should be soft and mashable.
Once the water has evaporated, squeeze the cauliflower through a cheese cloth or kitchen towel to get out any extra moisture.
Pat down with paper towel and leave to cool.
Once the cauliflower has cooled down, place it in a mixing bowl.
Add in the rest of the ingredients (except the oil for frying) and stir together. You will get a thick paste.
Pour about 1/4 cup of oil into the same pan you cooked the cauliflower with... place over medium-low heat.
Once the oil is hot (but not smoking or on fire), rub your hands with a little excess oil and take a small golf-ball sized chunk of batter and flatten into a pancake in your hand.
Drop the pancake into the oil and fry for about 2 minutes or until golden brown. Flip and cook the other side.
Continue to fry the rest of the latkes. You should be able to get around 10 from this recipe.
Once they are all cooked, enjoy with some Greek yogurt!
Enjoy!
Notes
This makes about 10 latkes.
Nutritional Information per latke:
CALS: 60
FAT: 4.4
CARBS: 3.9
FIBRE: 1.5
NET CARBS: 2.4
PROTEIN: 2.3