For this recipe, I really wanted to make keto pretzels with my dough that I use for bread… but it's very fluid and won't be able to be rolled so I figured today I'd make keto pretzel bites!
This is actually an incredibly easy recipe and it smells and tastes just like a pretzel! A nice soft inside with a salty, soft outside. Very similar to a soft pretzel.
So I made this recipe with both yeast and baking powder. I originally just used baking powder but the yeast is needed if you want that nice brown crust just like a pretzel.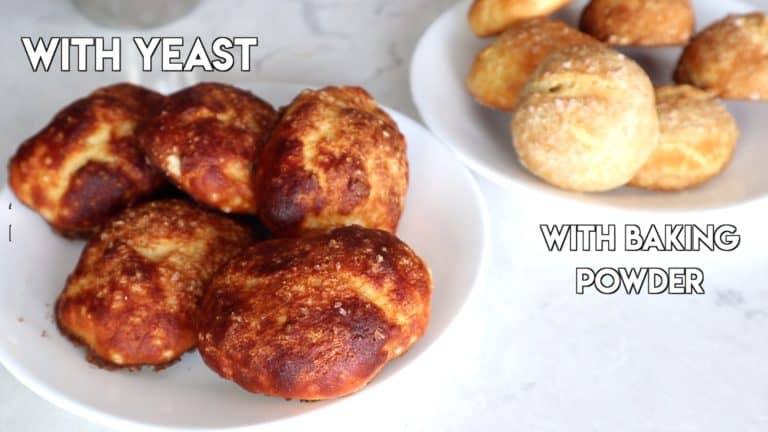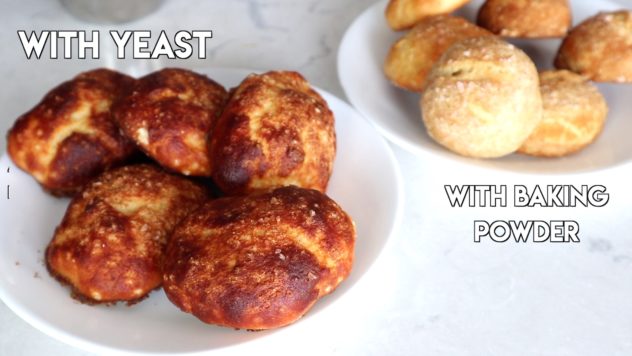 When you are baking these with yeast, you need to keep an eye on them. Once they start browning, it does it quickly. It takes 1 minute for them to brown too much so keep an eye on them!
These keto pretzel bites are perfect for dipping in mustard or your favourite dips!
This makes approximately 18 bites but you'll be able to get around 10 rolls/buns out of them if you want them bigger.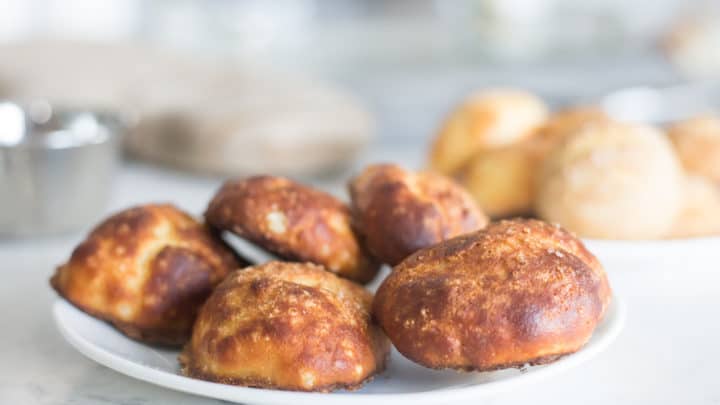 Yield:

18
Keto Pretzel Bites || Buns
Easy keto pretzel bites! Smell and taste amazing. Only 1.4 net carbs per bun! Goes great with your favourite dip!
Ingredients
1/2 tsp salt
2 eggs
1/4 cup (50g) melted butter
salt
IF USING YEAST
1/4 cup (60ml) warm water
1 tsp sugar
2 tsp yeast
IF USING BAKING POWDER:
1/4 cup (60ml) water
2.5 tsp baking powder
BAKING SODA WASH:
4 tbsp baking soda
4 cups water
(you could use 2 tbsp baking soda/2 cups (500ml) water)
Instructions
In a bowl, whisk together the almond flour, whey isolate, salt, xanthan gum and baking powder if using it.
Mix in the butter and eggs.
If using yeast, stir together the warm water, yeast and sugar in a measuring cup and wait for it to become activated (bubbly)
Pour the yeast water (or regular water if using BP) into the mix and stir until a thick batter forms.
Use wet hands to shape the batter into golf ball sized pieces. Place them on a cookie sheet lined with parchment paper.
In a pot, bring the water for the wash to a boil in a deep pot. You will need a deep pot because the baking soda will bubble up.
Add in the baking soda a tbsp at a time and stir until the bubbles go away. Then add more baking soda.
Make sure the soda is mixed into the water.
Brush the tops of the dough balls with the soda water and then sprinkle them with salt.
If using yeast, let them rise for around 20 minutes in a warm area.
For yeast bites, brush them with soda water and sprinkle salt again before putting in the oven.
Bake at 400°F / 200°C for 12-15 minutes or until deep golden brown.
Let cool and enjoy!
Notes
This makes roughly 18 bites!
Nutritional Information per bite:
CALS: 131
FAT: 9.4
CARBS: 2.7
FIBRE: 1.3
NET CARBS: 1.4
PROTEIN: 10.3