You can't even tell there's no fruit! These keto apple fritters taste just like your average donut shop fritter but without all the carbs. So easy to make!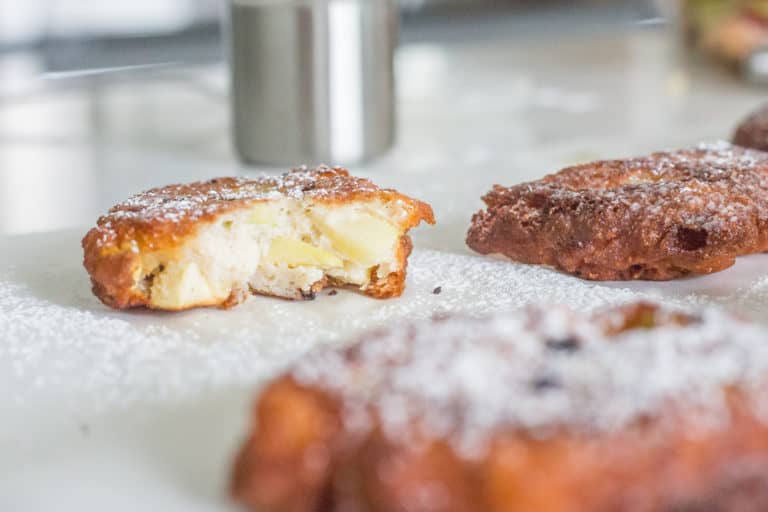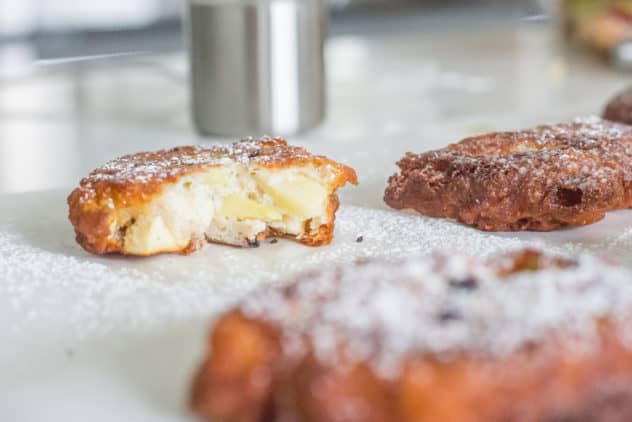 Instead of the usual granny smith apple – I made these gluten free apple fritters using zucchini and replicated the tart apple taste using apple cider vinegar. I know that may throw people off but it really gives it that apple taste!
Alternatively, you could use chayote squash as some people prefer using that instead of zucchini. Either way – both will taste delicious.
*I know one thing people will ask when they view my video is "what are those black balls?".. I used a churro flavoured whey isolate and it had 'pearls' of flavour in it. 🙂
Of course when deep frying – make sure to take all precautions and don't leave your food unattended. I say this as my neighbour once put his chips on too high and walked away and started a massive fire in his unit. Don't be like that. Be safe and use an oil with a high smoke point.
I deep fried my low carb fritters on low – any higher than that and they burned easily and the inside was uncooked. You want to be able to cook them for around 7-10 minutes so that the inside is nice and fluffy!
If you like these – make sure to check out my keto churros or my keto funnel cake!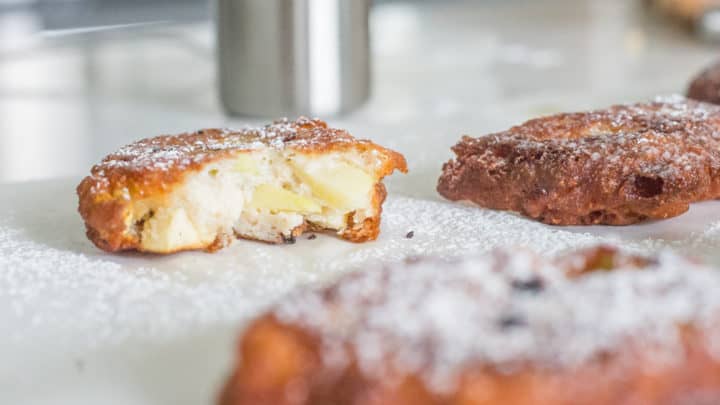 Yield:

10
Mock Keto Apple Fritters
Gluten, grain and sugar free - these keto apple fritters taste like your average doughnut shop! Made with zucchini, I can't even tell the difference!
Ingredients
1 large zucchini - chopped
1/4 cup (60ml) apple cider vinegar
1/3 cup (70g) + 1/4 cup (50g) sugar substitute
1 tbsp cinnamon
2 large eggs
1/4 cup (60ml) heavy cream
1 tsp vanilla
1 cup (100g) almond flour
1 scoop (30g - 1/4 cup) whey isolate
1 tsp xanthan gum
1 tsp baking powder
Oil or lard for frying
Instructions
Once your zucchini has been peeled and chopped - dry them off as best as you can with a paper towel.
In a mixing bowl, combine the zucchini, 1/4 cup of sugar substitute, cinnamon and apple cider vinegar. Make sure all the zucchini has been coated in the vinegar mix. Set aside.
In a separate mixing bowl, whisk together the eggs, cream and vanilla.
Pour in the almond flour, 1/3 cup sugar substitute and whey isolate. Scoop in the xanthan gum and baking powder. Mix thoroughly.
Add the zucchini and vinegar mixture to the batter. Stir until incorporated.
Heat up the oil or lard on low heat.
Place a small scoop (around 2 tbsp worth) of the batter into the oil and fry for 7-10 minutes. Flip when the donut has become a nice dark golden brown.
Let cool then top with some powdered sugar substitute.
Enjoy!
Notes
This makes roughly 10 keto apple fritters.
Nutritional Information per fritter:
CALS: 162
FAT: 14
CARBS: 4
FIBRE: 1.9
NET CARBS: 2.1
PROTEIN: 6.7