Just after starting a ketogenic diet, I was a bit disheartened while grocery shopping. I couldn't buy any bread! BUT after deciding to to take a fathead dough recipe and STUFF it with delicious flavours (inspired by www.ruled.me).. I knew I had made a good decision.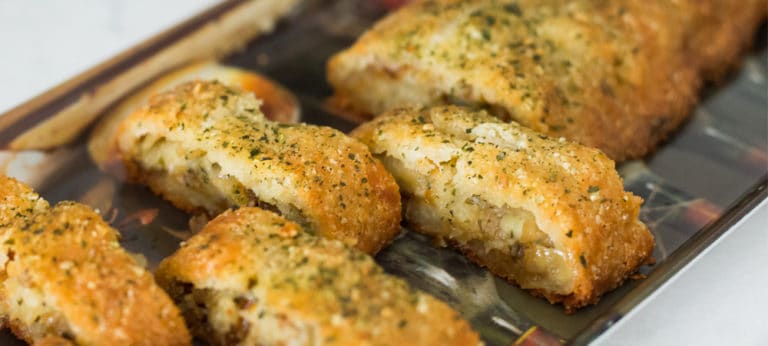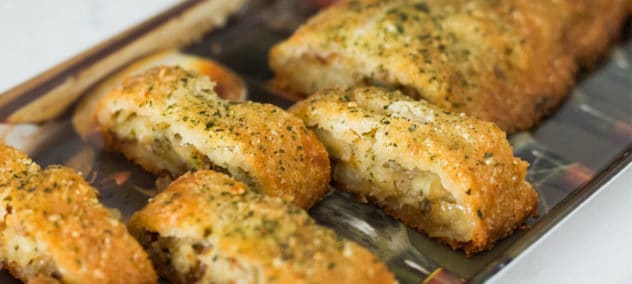 This is AMAZING. fathead bread is only made of two ingredients.. Almond flour (or ground almonds) and mozzarella cheese.. and let me tell you, you could not taste the almonds at all. It was ALL cheese. The crust tasted like a deliciously cheesy bagel that has the slightly burnt cheese bits on it. OMG.
This fathead dough recipe is also so versatile, you can use it for pizza crust or any other dough!
Stuffing it however makes it SO MUCH BETTER.
If you like this recipe, make sure to check out my keto white bread or keto cinnamon rolls!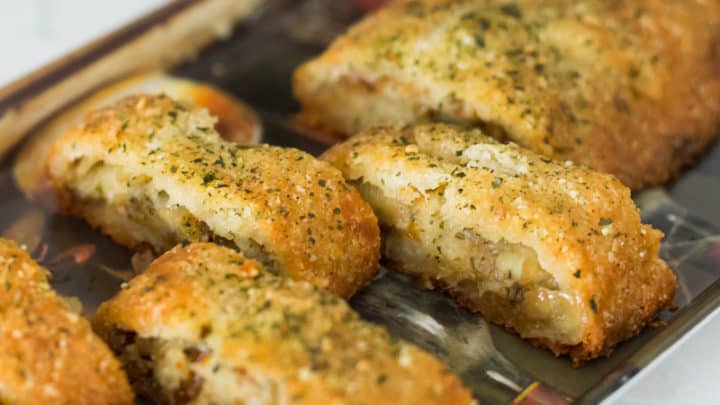 Yield:

15
Stuffed Fathead Bread
A variation of fathead dough, stuffed with delicious herbs, spices and much more.
Ingredients
3/4 cup ground almonds or almond flour
2 cups grated mozzarella
2 small yellow onions
2 tbsp butter
Bacon bits
Coriander seeds
Parsley
Garlic powder
Parmesan cheese
Instructions
The first thing you will want to do is heat up the butter, chop up the onions and slowly caramelize the onions. Let them sit in the butter on medium low.. stir occasionally, until they are nice and brown.
While the onions are caramelizing, mix together your almond flour and mozzarella cheese in a pot. You'll need a double boiler for this, so heat up some water in a separate pan, and then put the second pot, with your almonds/cheese on top of the pan with water. Stir it frequently, the cheese will begin to melt. When you have the consistency of dough - you know its done. Take out and let it cook in a bowl for a few minutes.
Once it's cooled down. Lay it on some parchment paper. Take another piece of parchment paper and lay it on top. Roll it flat with a rolling pin.
On top of the dough, lay out your caramelized onion, bacon, herbs and cheese.
Take one end of the dough and slowly roll it like a pinwheel.
Once it's all rolled up, brush with butter, add some herbs and throw it in the oven at 350 for 25 minutes or until brown.
Notes
This makes 15 slices
Nutritional Information
CALS: 119 
FAT: 9.2 
PROTEIN 5.9 
CARBS: 3.5 
FIBRE: 0.9
---
Our App!
If you want to get our recipes on the go – maybe you're grocery shopping or cooking by the stove – Download our FREE app where you can get ALL our recipes and even submit your own!
Apple iOS