One of the things I miss eating keto is PIEROGI. They are too yummy to give up so I knew I needed to create a keto pierogi and this time I'm using two different doughs!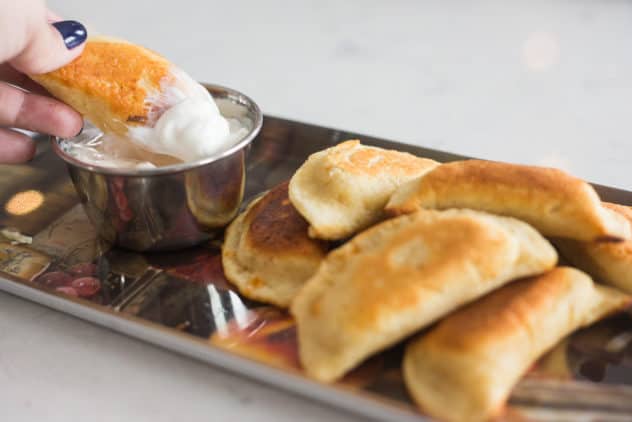 Now this low carb pierogi recipe does take a little bit of time, but I promise, it's worth it. Best to eat them hot and with some deeeelicous sour cream.
The first dough I used for this is a variation of 'fathead dough'. If you haven't heard of fathead dough, it's so versatile! Usually it's made out of almond flour, mozzarella, egg and cream cheese but for these, I only used almond flour and mozzarella. Cutting out the egg and cream cheese makes the dough thinner and less of a bread consistency but perfect enough for pierogi.
The second dough I used was the same ones I used for my potstickers. It consists of almond flour, whey isolate and 2 eggs. Very easy!
When you are making these try to roll the dough as flat as you can without it being too thin it breaks or is see through. If it's too thin, it will break but if it's too thick it will be too much on the dough-to-filling ratio.
I will mention beforehand that IF you bake these, you will need to bake them on parchment paper. If you don't they will stick to a cookie sheet and trust me, it will ruin it when you try to get them off.
As for the filling, you will need something with a lot of flavour. I used mashed cauliflower with a sharp cheddar and bacon bits. Perfect!
If you like this recipe, make sure to check out my keto pizza pockets!