One of the things I miss eating keto is PIEROGI. They are too yummy to give up so I knew I needed to create a keto pierogi and this time I'm using two different doughs!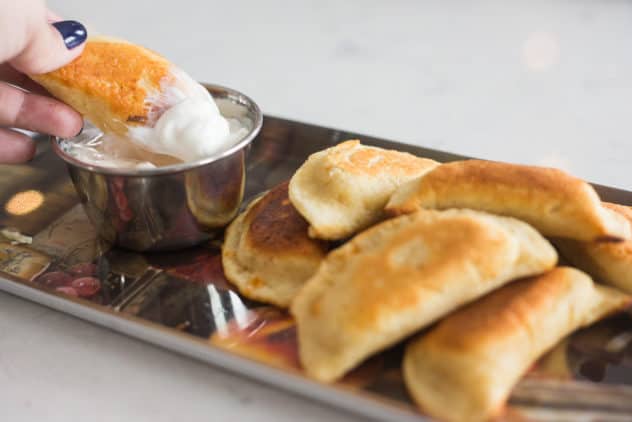 Now this low carb pierogi recipe does take a little bit of time, but I promise, it's worth it. Best to eat them hot and with some deeeelicous sour cream.
The first dough I used for this is a variation of 'fathead dough'. If you haven't heard of fathead dough, it's so versatile! Usually it's made out of almond flour, mozzarella, egg and cream cheese but for these, I only used almond flour and mozzarella. Cutting out the egg and cream cheese makes the dough thinner and less of a bread consistency but perfect enough for pierogi.
The second dough I used was the same ones I used for my potstickers. It consists of almond flour, whey isolate and 2 eggs. Very easy!
When you are making these try to roll the dough as flat as you can without it being too thin it breaks or is see through. If it's too thin, it will break but if it's too thick it will be too much on the dough-to-filling ratio.
I will mention beforehand that IF you bake these, you will need to bake them on parchment paper. If you don't they will stick to a cookie sheet and trust me, it will ruin it when you try to get them off.
As for the filling, you will need something with a lot of flavour. I used mashed cauliflower with a sharp cheddar and bacon bits. Perfect!
If you like this recipe, make sure to check out my keto pizza pockets!
The perfect keto pierogi! Made with a variation of fathead dough and stuffed with cauliflower and cheese!
Ingredients
DOUGH 1: fathead
3/4 cup (75g) almond flour
2 cups (200g) mozzarella grated
DOUGH 2: non-fathead
1.5 cups (150g) almond flour
1.5 scoops (50g) whey isolate
2 eggs
2 tsp xanthan gum
FILLING:
1/2 cauliflower head - chopped
2 tbsp cream
1 tbsptbsp sour cream
1/2 cup (60g) shredded cheddar
salt/pepper
Instructions
DOUGH 1:
Melt the mozzarella, either in the microwave or using a double boiler (as seen in the video)
Mix in the almond flour. You will eventually need to knead it for 2-3 minutes until it becomes smooth.
Dough is ready to use!
DOUGH 2:
In a mixing bowl, whisk together the almond flour, whey isolate and xanthan gum.
Crack in the two eggs and stir together.
Use your hands to knead the dough until it is smooth.
Dough is ready to use!
FILLING:
Cut your cauliflower into florets and place them in a pot full of water.
Bring to a boil and cook for 5 - 10 minutes or until a fork can pierce the cauliflower easily.
Drain the cauliflower as much as you can.
Pour in the cream and add in the butter, sour cream and salt/pepper. Use a fork to mash it all together.
Finally add the cheese and mix.
When ready to make the pierogi, roll the dough flat between two sheets of parchment paper. Try to get it as thin as you can without tearing.
(Oil your hands for the next steps for easy handling)
Use a cookie cutter or a glass to cut out several circles.
Place a dollop of the cauliflower mix into the centre of the dough circle.
Fold and seal around the edges. Continue with the rest of the pierogis.
These perogi can be baked on parchment paper at 350°F /175°C for 20 minutes (or until brown)
or they can be boiled and pan fried over butter - or just pan fried!
Enjoy!
Notes
This makes approximately 15 fathead pierogi & 20 non-fathead pierogi.
Nutritional Information per pierogi (fathead)
CALS: 81
FAT: 6.1
CARBS: 2.2
FIBRE: 0.7
NET CARBS: 1.5
PROTEIN: 4.7
Nutritional Information per pierogi (non-fathead)
CALS: 80
FAT: 6.2
CARBS: 2.7
FIBRE: 1.2
NET CARBS: 1.5
PROTEIN: 4.7
---
Our App!
If you want to get our recipes on the go – maybe you're grocery shopping or cooking by the stove – Download our FREE app where you can get ALL our recipes and even submit your own!
Apple iOS