Like a bit of CRUNCH with your cheesecake? Look no further. Adding some candied nuts to your mix makes a PERFECT keto pecan cheesecake!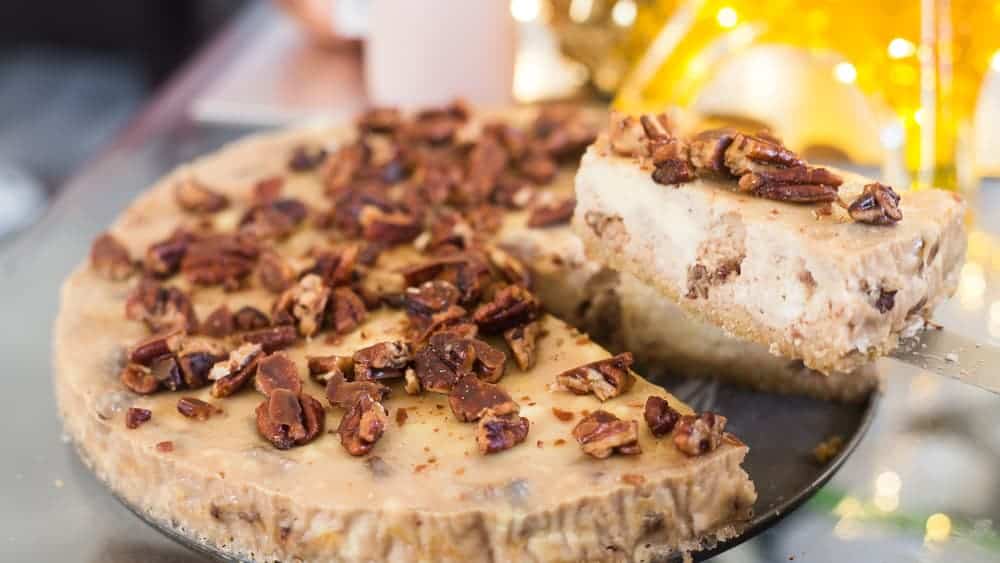 When you are making your candied pecans, it's recommended to use erythritol (Swerve for example) or allulose. Both those have the ability to caramelize. While I haven't specifically tried using Stevia, I have heard through the grapevine that it doesn't work.
You'll need to bring the erythritol or allulose to a boil with some water. Careful – keep an eye on the temperature. You don't want the sugar substitute to burn. Once it's begun to boil, add in the nuts and stir frequently. The water will eventually boil off leaving you with a gooey caramel to coat all the nuts!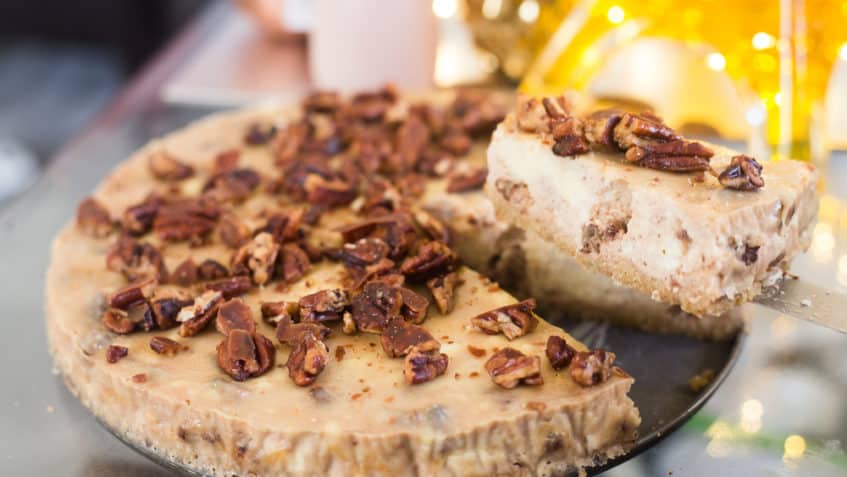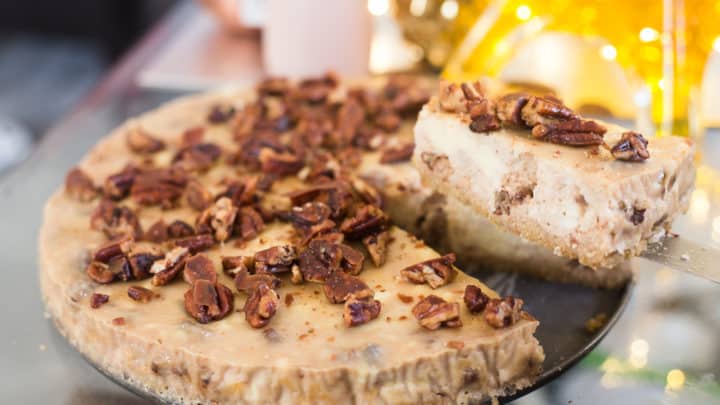 Keto Candied Pecan Cheesecake
Cook Time:
1 hour
30 minutes
Total Time:
1 hour
55 minutes
Like a bit of CRUNCH with your cheesecake? Look no further. I had an abundance of pecans and decided to incorporate them into a cheesecake! Mmmm.
Ingredients
CRUST
1/2 cup (60g) coconut flour
1/4 cup (50g) butter – melted
1 egg
2 tbsp sugar substitute (i used erythritol)
1 tbsp cinnamon
CHEESECAKE
500g cream cheese, room temperature (approx 2 'bricks' of cream cheese – 250g each)
1 tbsp vanilla
1/2 cup (100g) sugar substitute (I used erythritol)
1/2 cup (100g) sour cream
2 eggs
1 1/2 tbsp coconut flour
1 1/4 cups (150g) pecans – chopped
3 tbsp water
3 tbsp erythritol
1 tbsp brown sugar substitute (I used sukrin gold)
Instructions
In a mixing bowl, whisk together your crust ingredients thoroughly.
Place the dough into a 9-inch lined cake or pie pan and spread the dough around the bottom of the pan to form a crust.
Bake at 350°F/175°C for 10 minutes. Take out and set aside.
Use a hand or stand mixer to thoroughly whisk together the cream cheese, sour cream, vanilla, 1/2 cup of sugar substitute, coconut flour and eggs. Set aside.
In a non-stick pan on medium heat, bring your water, brown sugar substitute and 3 tbsp of erythritol to a boil.
Once it starts bubbling, pour in your chopped pecans and stir.
Continue to cook on medium until any excess water cooks off. Careful not to burn anything. If you start to smell burning, turn it down.
Incorporate 3/4 of the candied pecans into the cheesecake batter, leaving some left over for later.
Place the cheesecake in the oven at 350°F/175°C for 10 minutes before turning down the heat to 200°F/100°C and bake for an hour.
Take out, top with the extra pecans and enjoy!
Nutrition Information:
Yield:
12
Serving Size:
1
Amount Per Serving:
Calories:

285
Total Fat:

25.5g
Carbohydrates:

6.6g
Fiber:

3.3g
Protein:

6.4g