These delicious chocolate mint cookies rival the girl scouts!! Definitely one of my top 5 keto cookies right now! Plus I'm in a love-hate relationship with mint right now. (Love it, hate that I love it so much)
So basically when I was creating this recipe, I took the base cookie recipe from my Oreos and covered them with a delicious chocolate mint ganache!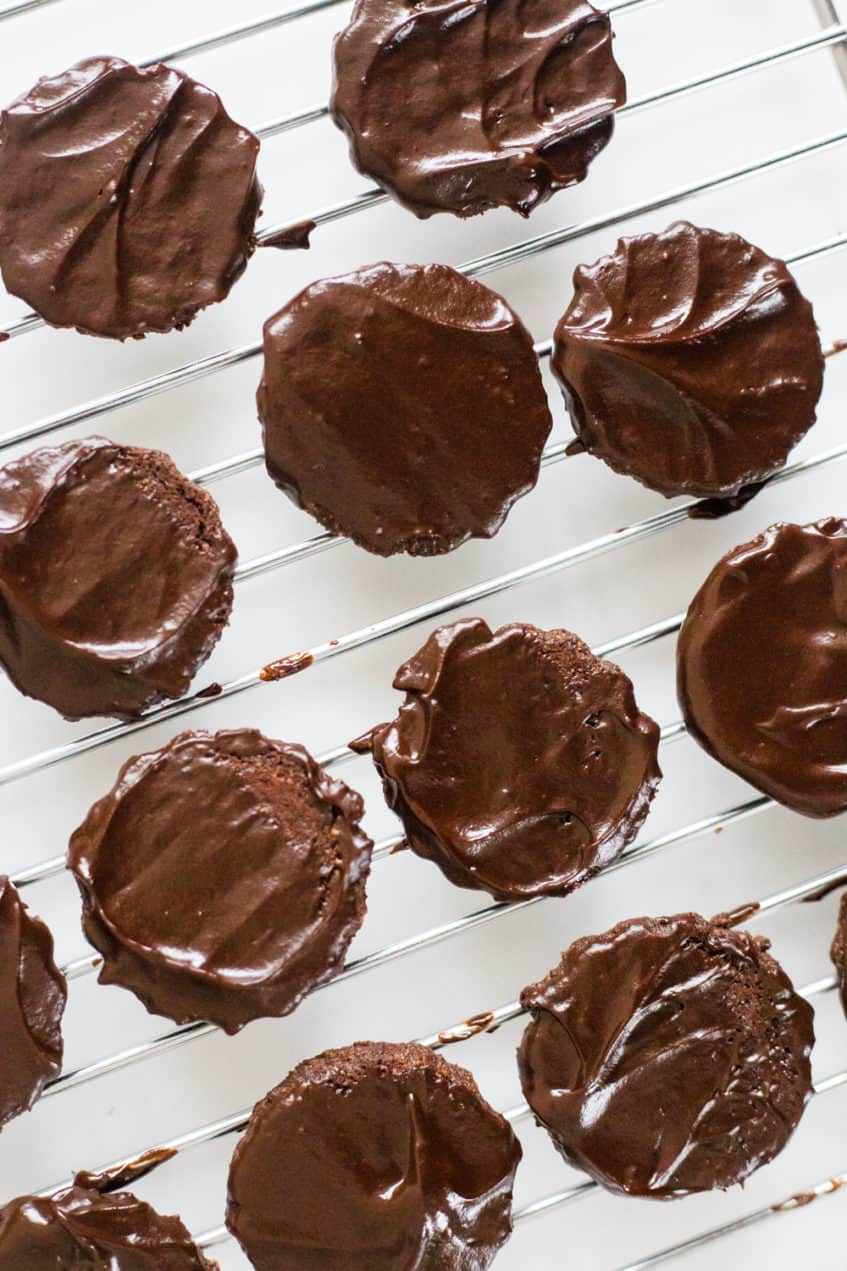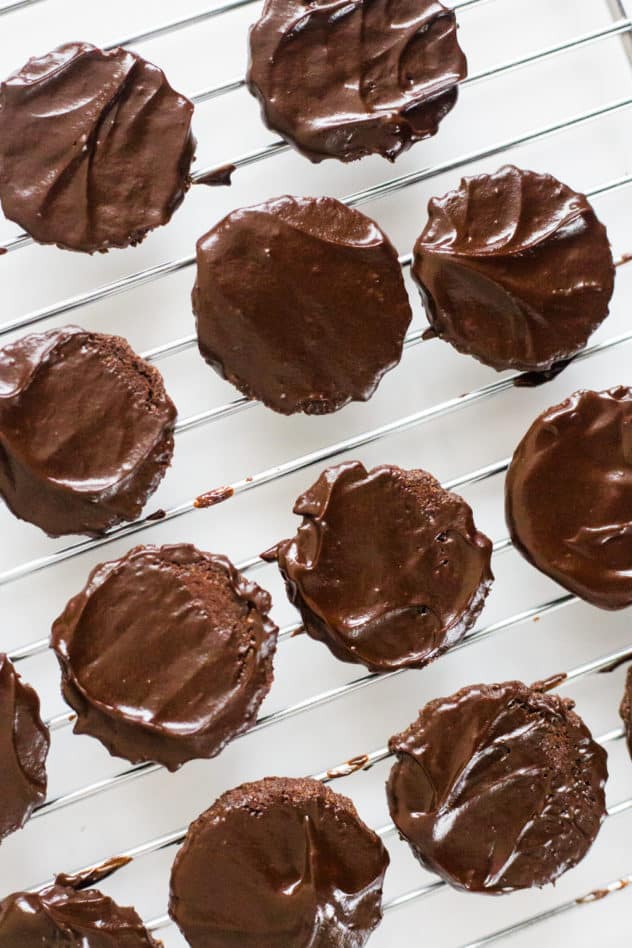 One thing that I will mention on this recipe is that it is SUPER important to use room temperature butter. If you don't, the butter will clump together and they may end up falling in the oven.
If you have a hand or stand mixer, you can definitely use that instead of a spoon or hands to cream the butter and sugar substitute. I get a lot of comments on why I use a spoon and its because I don't have a mixer. It's currently at my sisters apartment in Canada and I am in Ireland and don't want to spend the money to buy a new one just right now.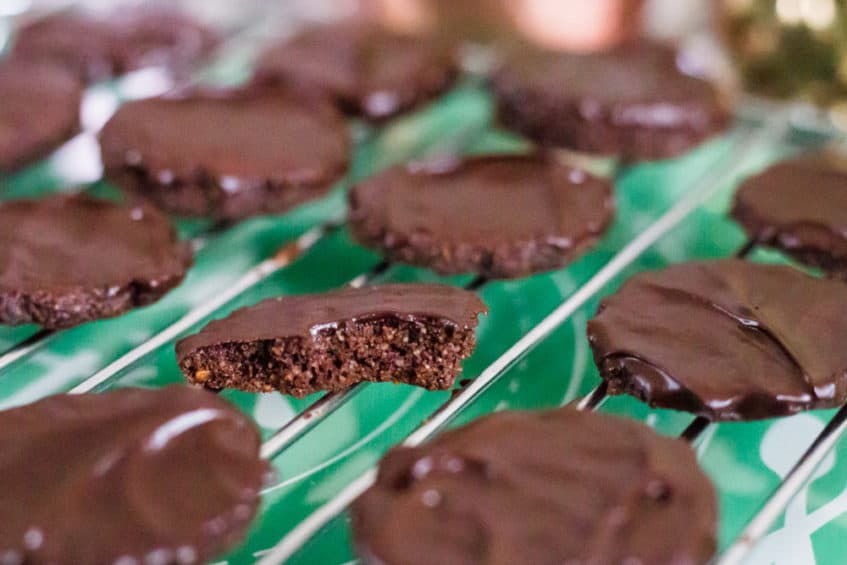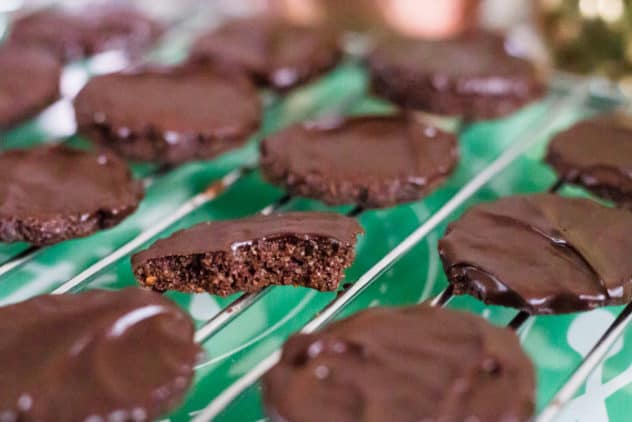 No other big notes are needed for this recipe, it's fairly straight forward.. but I will add that it is vital to chill the dough before putting it in the oven. If you don't, the dough will be too soft to form cookies!
That being said – here is the recipe! If you like these, make sure to check out my keto chocolate chip cookies!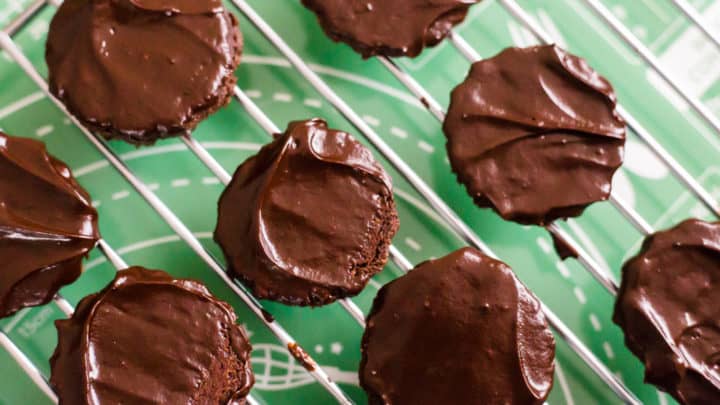 Yield:

18
Keto Thin Mints
Chilling Time:
45 minutes
Better than the girl scouts and without all the sugary guilt! Gluten and grain free, these keto thin mints are super easy to make!
Ingredients
COOKIES:
4 tbsp (50g) butter - room temperature
3 tsp cocoa powder
GANACHE
Instructions
In a bowl, cream together the butter, sugar substitute and peppermint extract.
Pour in the cocoa powder and almond flour.
Stir until you get a coarse crumb, then use your hands to knead until it forms a dough.
Chill in the fridge for 45 minutes.
Take out of the fridge and roll flat using a rolling pin.
Cut out 18 circular 1-inch thick cookies.
Place the cookies on a cookie sheet lined with parchment paper.
Bake at 350°F /175°C for 10 minutes.
While your cookies are baking, place the chocolate, peppermint extract and cream into a microwavable safe dish.
Cook on high for 30 seconds or until the chocolate has melted. (alternatively, if you don't want to use a microwave, you can use a bain marie/double boiler)
Once the chocolate has melted and is a nice liquid with consistency similar to cream soup, pour or spoon on top of the cookies.
Let the chocolate chill and harden before eating.
Notes
This makes roughly 18 cookies.
Nutritional Information per cookie:
CALS: 87
FAT: 8
CARBS: 2.2
FIBRE: 1
NET CARBS: 1.2
PROTEIN: 1.7
Nutrition Information:
Yield:
18
Serving Size:
1
Amount Per Serving:
Calories:

87
Total Fat:

8g
Carbohydrates:

2.2g
Fiber:

1g
Protein:

1.7g