A basic keto ice cream recipe to get you through the summer months! You don't even need an ice cream machine and requires NO churning!
Now I made it to be a delicious mint chocolate chip but it's so easy to change up the flavours! Add some cocoa powder for chocolate, or some strawberries, some vanilla.. etc.. It's so easy and versatile.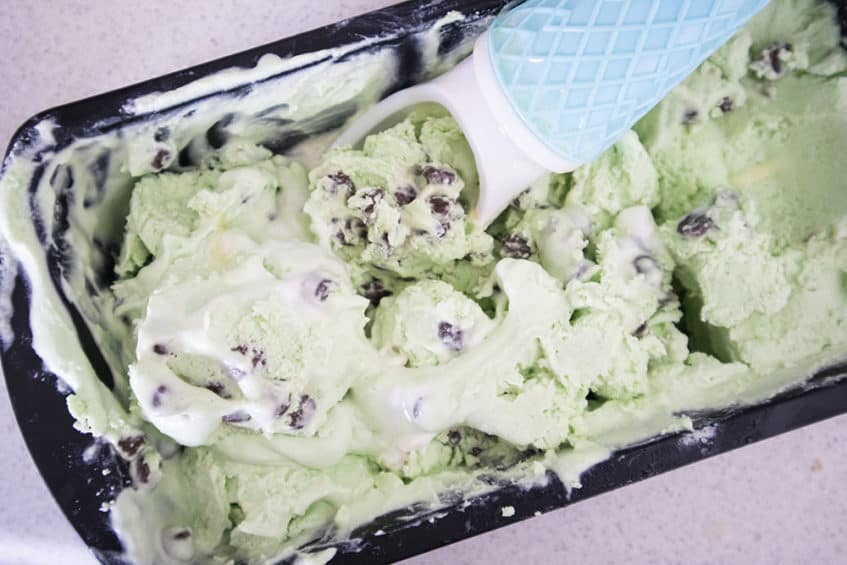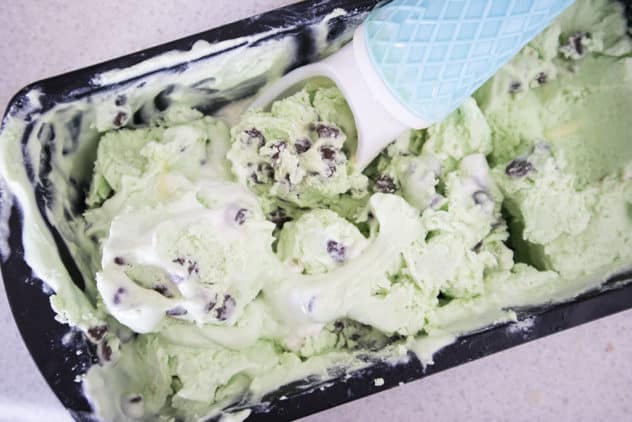 For a smooth and creamy ice cream, you will definitely need to put in the work. I can't say this is a QUICK recipe, but it is worth it in the end.
For the condensed milk, I didn't let it fully condense before taking it off the heat. You can definitely let it evaporate more to get it thicker but you will be adding more cream to it anyway, so it's not imperative.
One thing is required though – cooling the liquid. Once you mix the warm condensed milk and the heavy cream, it will be too warm to whip up properly and it may not thicken. Place in the fridge for a minimum of 1 hour before whipping it up using a hand or stand mixer.
Best scoop: a hot metal ice cream scoop. Soak it in hot water before scooping.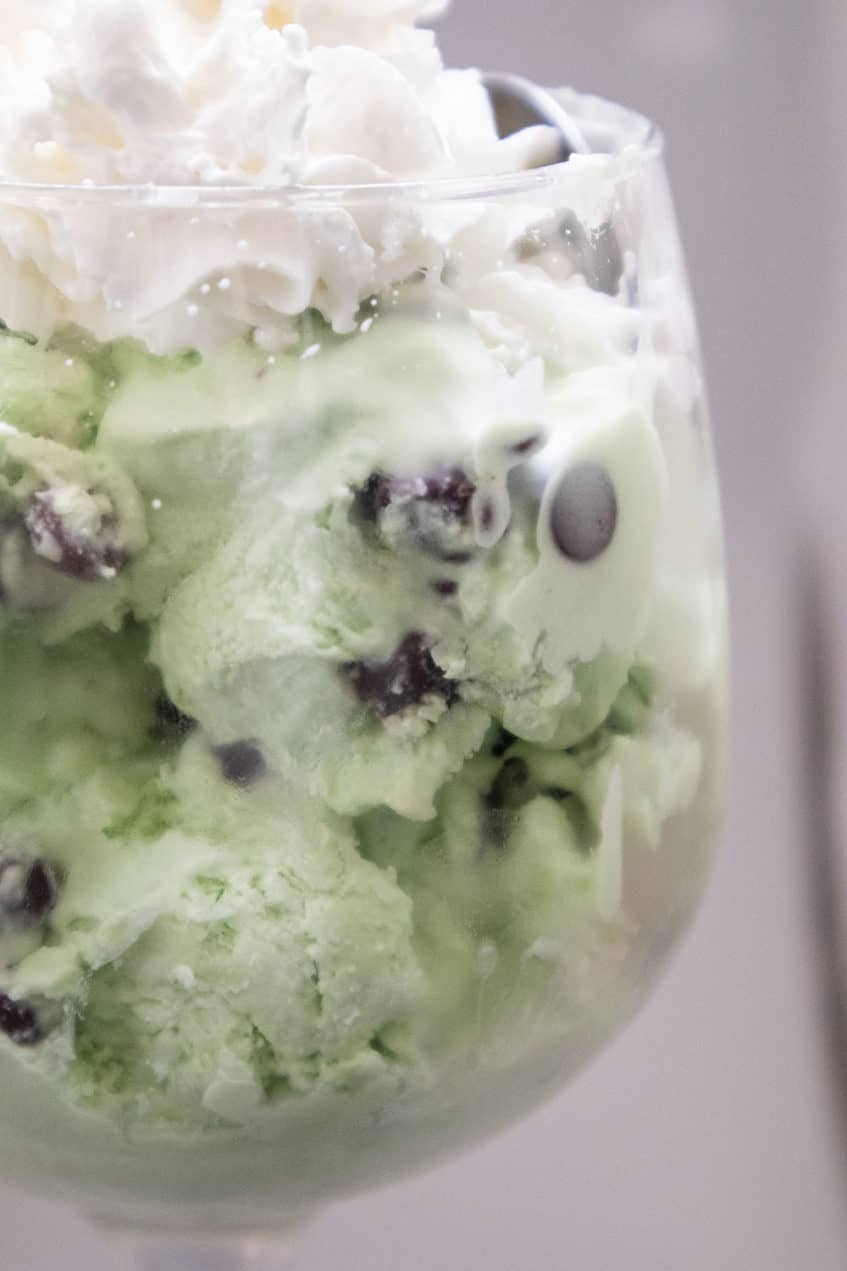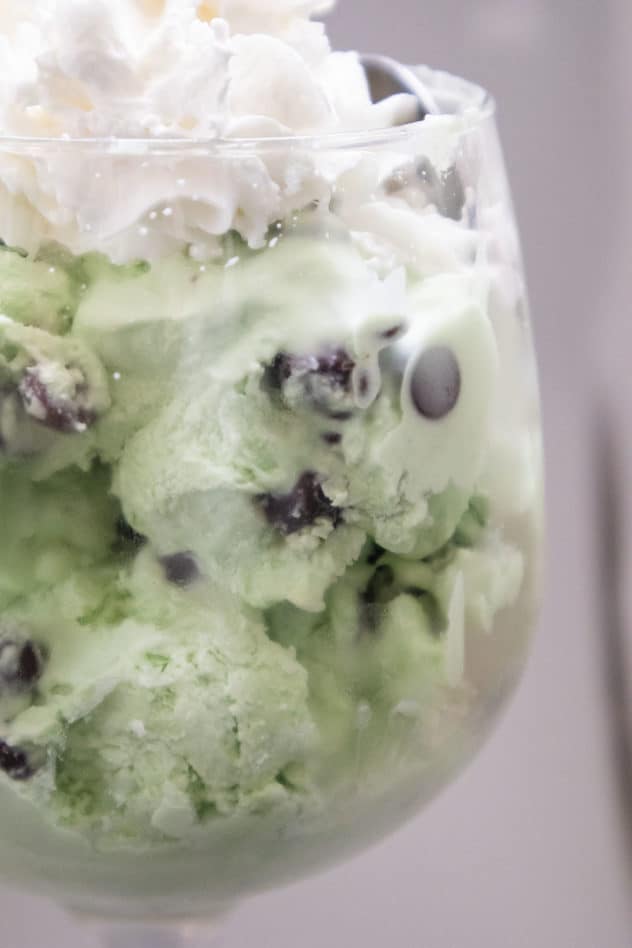 Enjoy! If you guys like this recipe, make sure to check out my keto coffee ice cream, and coconut ice cream.
*This written recipe is HALF of the recipe shown in the video.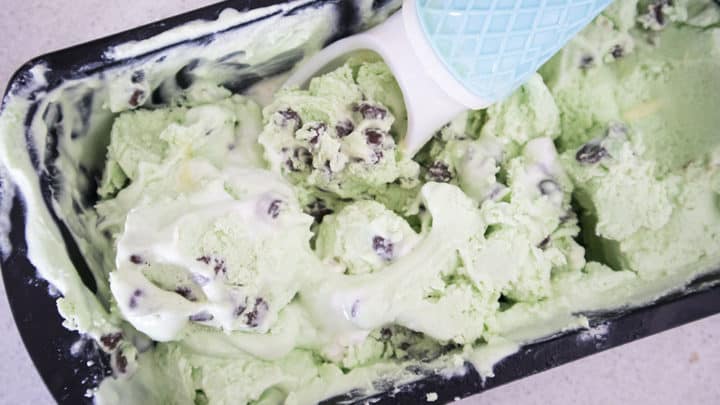 Yield:

10
Keto Ice Cream Recipe (Mint Chocolate Chip!)
Condensed Milk:
20 minutes
Total Time:
1 hour
25 minutes
Get ready for the summer with this easy keto ice cream recipe! I made mint chocolate chip but it is incredibly versatile!
Ingredients
2 cups (500ml) heavy cream
1 tbsp butter
3 tbsp powdered sugar substitute
2 tsp peppermint extract/flavouring
green food colouring (optional)
100g sugar free chocolate chips
Instructions
In a pan over medium heat, melt the butter and stir in the powdered sugar substitute.
Once mixed thoroughly, pour in 1 cup (250ml) of the cream and turn onto high heat.
Bring to a boil while you stir frequently to make sure the cream does not burn.
Once boiing, turn down the heat and simmer.
Continue to simmer and stir frequently until the mix has thickened and reduced by 1/4 to 1/2.
Take off heat and pour into a mixing bowl.
Pour in the remaining 1 cup (250ml) of heavy cream into the mixing bowl.
Stir in the peppermint extract.
Cover and cool in the fridge for a minimum 1 hour.
Once cooled significantly, use a hand or stand mixer to whip the cream mixture. This is the time to also add food colouring.
The mix will start to thicken and become smooth and creamy. It should also increase in size.
Once the cream is smooth and slightly increased in size. Add in the chocolate chips.
Pour into an ice cream tin or tub and freeze overnight.
Enjoy!
Notes
This yields about 10-15 scoops.
Best scooping: use a HOT metal ice cream scoop. I soaked mine in hot water before scooping.
Nutritional Information per scoop:
CALS: 166
FAT: 16.5
CARBS: 1.5
FIBRE: 0.5
NET CARBS: 1
PROTEIN: 1.2
Nutrition Information:
Yield:
13
Serving Size:
1
Amount Per Serving:
Calories:

134
Total Fat:

14.4g
Carbohydrates:

1g
Fiber:

0g
Protein:

0.8g