Who else is a fan of the chicken balls with sweet and sour sauce when you get Chinese take out? They are one of my favourites so of course I had to make keto chicken balls!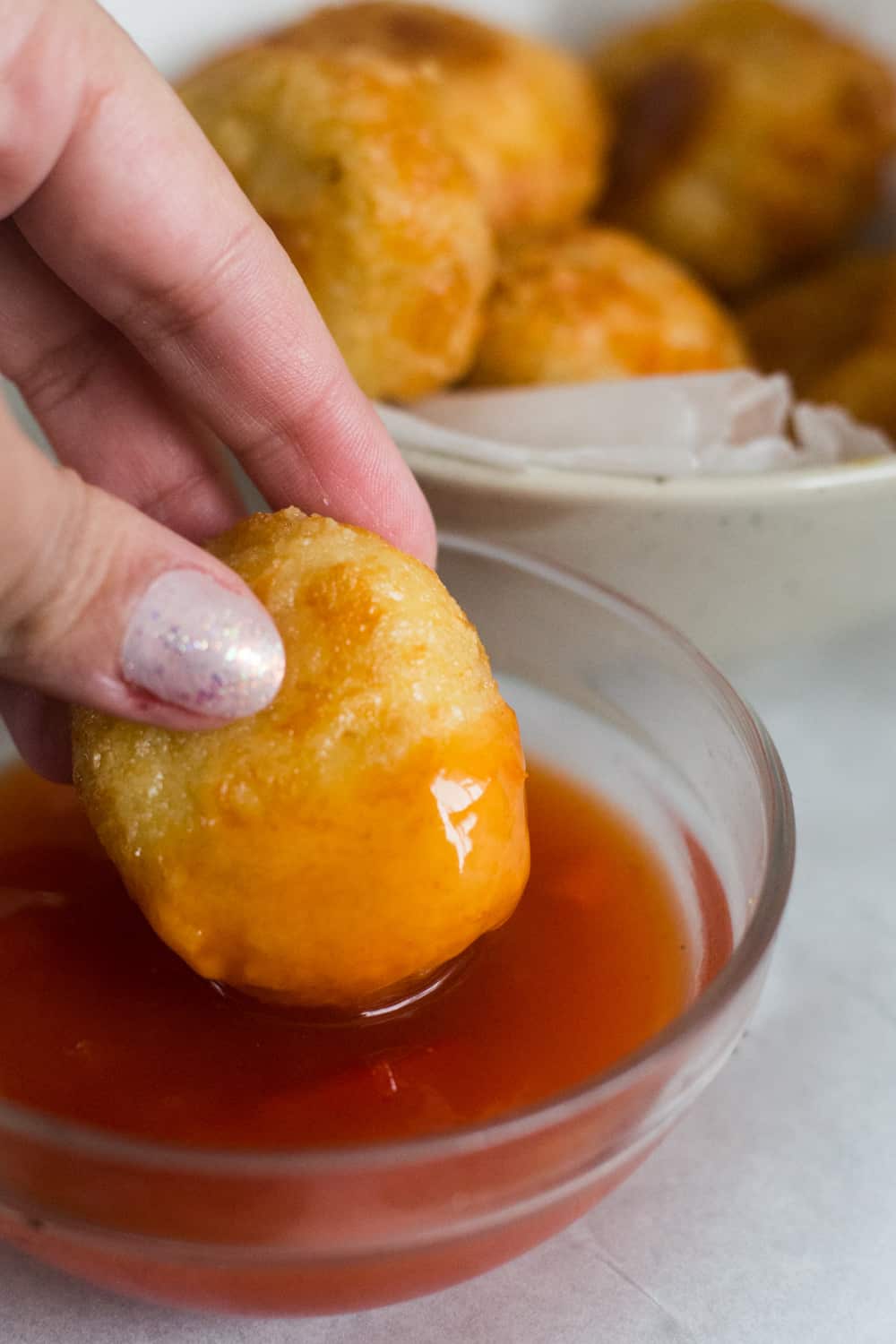 Not to be THAT blogger – but I used to get them at a place near my highschool. 5 bucks for chicken balls, rice, meat and a drink. It was awesome!
For this recipe today, I tried two different doughs. One being fathead, the other is similar to my bread roll recipe. I know a lot of people don't like fathead but others are impartial to whey so I knew I needed to do two different doughs.
I'm honestly in LOVE with both kinds! They taste JUST like the ones you get in takeout.
Now it's important when deep frying that you do it on medium heat. Not too high otherwise they will burn and the middle will be uncooked, You want it to take around 6 minutes to fry.. That will ensure the chicken is cooked.
For the filling, I used minced chicken, which I HIGHLY recommend. I had my local butcher mince it for me so it's very fine. If you use store bought minced chicken, I would suggest attempting to grind it up a little more!
As for what I preferred. Both of these taste great but I think the whey dough (#2) is my favourite!
As always, if wet your hands when you are dealing with this dough and batter – it will help immensely.
If you like this recipe, make sure to check out my FULL keto Chinese dinner and keto potstickers!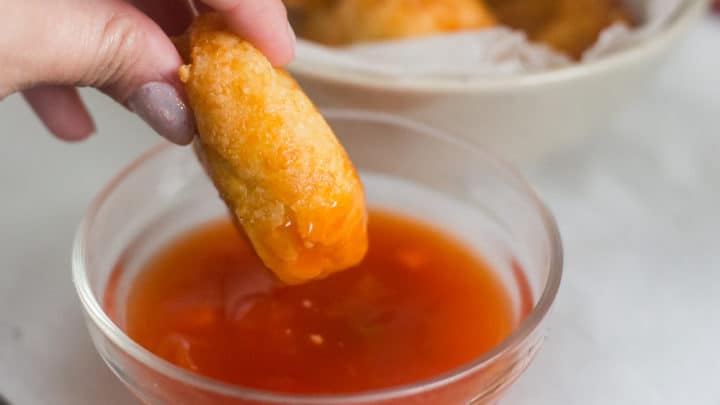 Yield:

10
Keto Chicken Balls (2 ways)
American-Chinese style chicken balls without the guilt and carbs! Easy to make, 5 minutes to fry, and super delicious.
Ingredients
DOUGH #1:
1.5 cups (170g) mozzarella cheese - melted
1 egg
1 tsp baking powder
DOUGH #2:
1 1/4 tsp baking powder
1 tsp xanthan gum
1/2 tsp salt
2 tbsp butter - melted
1/2 cup (117ml) water
FILLING:
1/2 LB minced chicken
1 tsp sesame oil
1 tbsp soy sauce or coconut aminos
OTHER:
Instructions
DOUGH #1:
Melt the cheese in the microwave or double boiler.
In a mixing bowl, whisk together the almond flour and baking powder.
Add in the cheese and mix as well as you can. You may notice some extra flour in the bowl - that is fine.
Crack in the egg and knead it into the dough. It will be very sticky, but make sure it's kneaded until the dough is all the same and there are no random cheese or egg parts.
Take a small chunk of the ground chicken and wrap a piece of the dough around it, pinching any exposed holes together so that the chicken is fully encased in the dough.
Continue with the rest of the chicken & dough.
DOUGH #2
In a separate (or cleaned) mixing bowl, whisk together the dry ingredients for the batter.
Stir the melted butter into the batter flour - it won't fully incorporate but that is ok.
Pour in the water and use a spatula to mix until it becomes a batter with the consistency just a bit thicker than cake batter.
Using wet hands, take a small chunk of meat and roll into a ball.
Take a little bit bigger size chunk of the batter and wrap it around the meat.
Make sure the layer is not too thick. The batter should fully cover the meatball.
FRYING:
In a pot over medium to medium low heat - melt your beef drippings (or heat up your oil of choice - make sure it is safe for frying)
Test to see if the drippings are hot enough by taking a PINCH of batter and dropping it into the oil. If it browns within 10-15 seconds - it's too hot.
The test batter should remain a white-ish colour and begin turning brown at around 40ish seconds.
When oil is at temp, drop in the raw chicken ball and fry for around 6 minutes until the dough has become a nice light golden brown colour.
Flip if needed.
Continue to form the rest of the meat and dough into balls and fry!
Enjoy with some sweet and sour sauce (no sugar added)!
Notes
This makes roughly 10 chicken balls.
Nutritional Information per chicken ball (DOUGH #1)
CALS: 137
FAT: 10.3
CARBS: 2.5
FIBRE: 0.9
NET CARBS: 1.4
PROTEIN: 9.6
Nutritional Information per chicken ball (DOUGH #1)
CALS: 147
FAT: 10.6
CARBS: 2.5
FIBRE: 1.2
NET CARBS: 1.3
PROTEIN: 10.6