Do you avoid onions on the keto diet? While they are keto, many people choose to avoid them, missing out on snacks such as fried onions. Luckily, I've made a very low carb alternative – keto fried mushrooms!
These are GREAT as fried onion alternative. Perfect crispy topping for casseroles, tacos, salads and so much more!
For this recipe, I used shimeji (beech) mushrooms and it turned out great. If you want IDEAL crispyness similar to fried onions, try using enoki mushrooms. They are tall and thin and really fry up well!
I coated my mushrooms in protein powder, but you can also use oat fibre! You will need something that is almost a powder – I dont recommend almond flour as it won't stick to the mushroom well.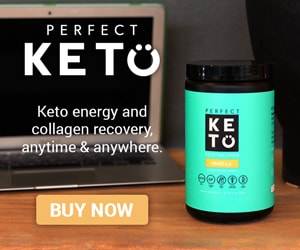 Use code HEdiscount for 15% off all individual PerfectKeto products!
You will notice that the protein powder or oat fibre draws out the moisture from the mushrooms, leaving the coating very sticky. That is ok and you want that! That is ideal for the deep frying process.
I found that if you deep fried them straight from dipping in the coating, they didn't turn out as crispy.
As always, make sure you are being safe while deep frying. Keep a lid nearby – the best way to stop a grease fire is to cover it so that it loses all oxygen.
These keto fried mushrooms will be great on our taco casserole, or dip them in my keto queso!