The most crispy, delicious, cheesy, garlicy keto breadsticks there were! These easy to make sticks are perfect to serve as a snack or alongside a yummy keto lasagna.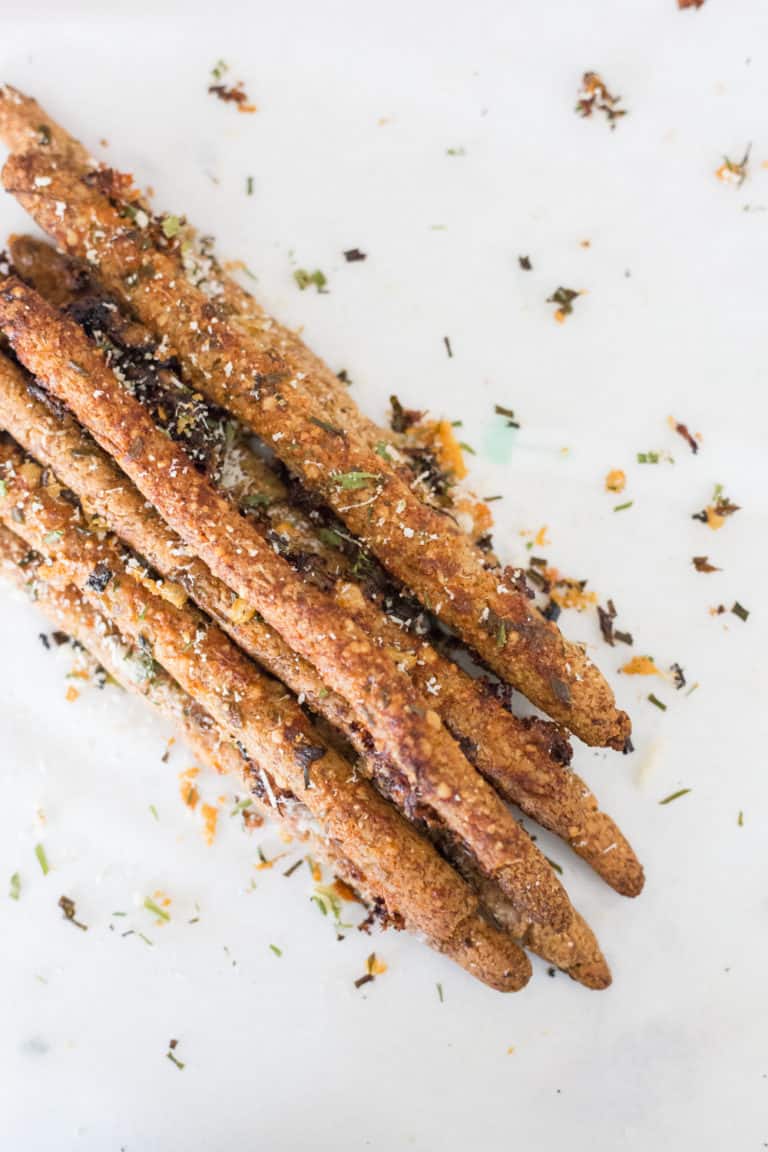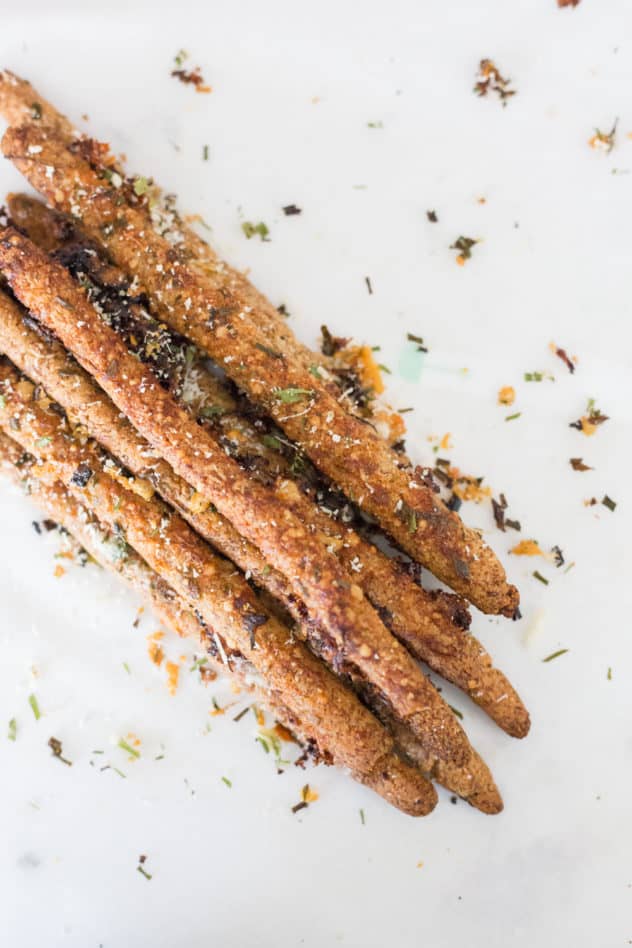 Now, a lot of people have been saying how they can't find whey isolate near them so this recipe is protein powder free!
Now one thing you will notice is that they are a bit dark – but let it be known they are NOT burnt. Due to the psyllium husk and parmesan cheese, these treats ended up being a little darker than a normal grissini (breadstick)
I think the best thing about these is that you can flavour them any way you want. I really love garlic and cheese so I knew I had to add some minced garlic and parmesan.
These breadsticks are crispy in texture and snap when you break them. The perfect consistency!
If you like these, make sure to check out my keto garlic bread, keto white bread or my keto pesto bread!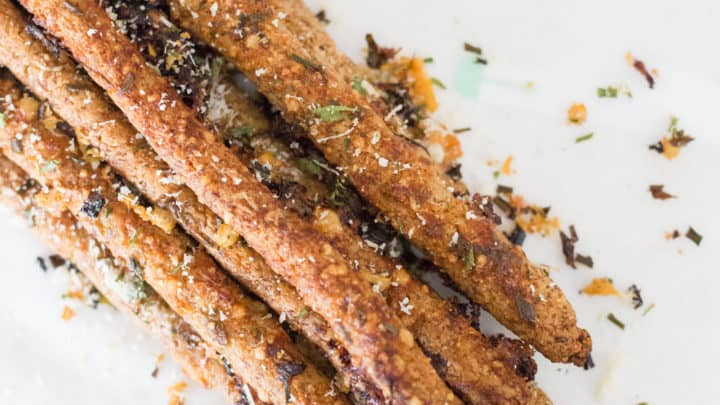 Yield:

10
Keto Breadsticks
Easy keto breadsticks seasoned with garlic and parmesan cheese. Great to serve alongside low carb pasta or lasagna! Gluten, grain and sugar free.
Ingredients
BREAD
1 tsp xanthan gum
1/2 tsp baking powder
4-tbsp parmesan cheese - grated
1 tsp garlic - pureed or minced
salt/pepper to taste
1/4 cup (60ml) water
3 tbsp olive oil
1 medium egg
BUTTER WASH:
1-2 tbsp butter - melted
1 tsp garlic - minced or pureed
salt/pepper
1 tbsp parmesan cheese
Instructions
In a mixing bowl, whisk together the almond flour, 2 tbsp of psyllium husk, baking powder, xanthan gum, salt, pepper and parmesan cheese.

Spoon in the olive oil and garlic.

Pour in the water and mix thoroughly.

Begin to knead the batter with your hands until it forms a dry dough.

Crack in the egg and add the 2 extra tbsp of psyllium husk and continue to knead until the dough is smooth. It shouldn't be very wet or slimy.. if it is, add in another tsp or so of psyllium.

Once the dough is smooth, leave it to sit for 5-7 minutes.

In a small bowl, whisk together the ingredients for the butter wash.

Once the dough has rested, break the dough into 10 balls.

Take one of the balls and roll it between your hands to form a snake/pencil-like stick.

It is best to roll with your forearm and palms as they are smooth surfaces. If the dough breaks as you roll it, just pinch it back together and roll it so the broken part is smooth again.

Place the snakes onto a cookie sheet lined with parchment paper.

Continue to make snakes with the rest of the batter.

Once that is all done, brush the tops with the butter wash and bake at 350°F/175°C for roughly 30 minutes or until the bread is nice and crispy.
Notes
This makes approximately 10 breadsticks.

Nutritional Information per breadstick:

CALS: 133
FAT: 12
CARBS: 3.8
FIBRE: 2.4
NET CARBS: 1.4
PROTEIN: 4.1