It's tea time and you're wondering what little bits to serve your guests – well now there are these delicious keto scones! They are SO easy to make and take only 10 minutes to bake in the oven.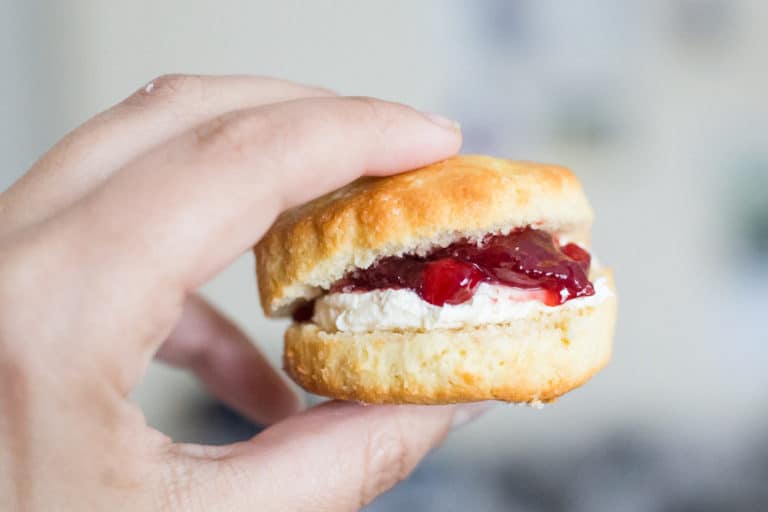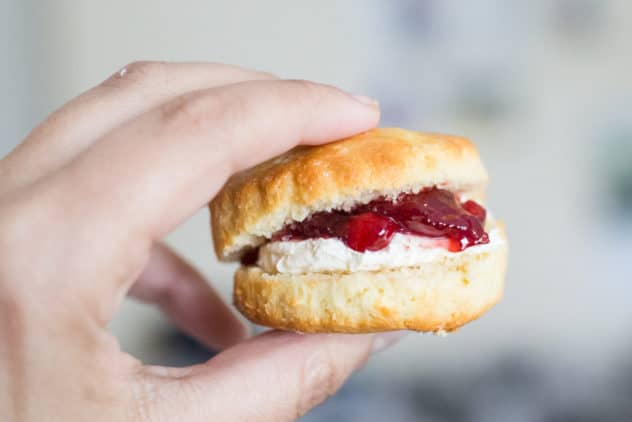 When I first made these, I originally tried to make it similar to my bread rolls, and while they tasted AMAZING, the form wasn't there. They sank and kind of expanded in the oven. They didn't look like very good scones, that's for sure. However I decided to give them a second whirl, making more of an actual dough instead of a batter.
These worked perfectly – they rose a bit (not as high as I'd like, but they are a great size for afternoon tea) and taste amazing. Top with some clotted cream and no added sugar jam!
I think if you want to get rid of they whey (although I do recommend making it with the protein whether it's whey, pea or egg), you could probably replace it with an extra 1/4 cup (25g) of almond flour.
When you are kneading the dough – you want to make sure that you are only kneading until all the flour has been mixed in. If you handle it too much, the butter in the dough will start to melt and it'll get all greasy. As well, the consistency of the dough should be light – like pressing into a pillow!

I hope you like these keto scones! If you do, make sure to check out my keto dinner rolls and keto white bread! So yummy!
Gluten free & keto scones! Incredibly easy to make and only takes 10 minutes in the oven!
Ingredients
3/4 tsp xanthan gum
1.5 tsp baking powder
1 tbsp butter - room temperatute
1 egg (plus 1 for brushing)
1 tbsp heavy cream
salt - to taste
Instructions
In a mixing bowl, whisk together the dry ingredients.
Drop in the butter and use your hands to incorporate the butter into the flour until you have a course, sandy texture.
Separately, beat 1 egg together with the heavy cream.
Pour the egg/cream mix into the flour and use a spatula to stir together.
Once it gets a bit tougher to mix, begin to use your hands to knead the dough until all the flour is incorporated. It should have a light pillowy consistency.
Place the dough between two sheets of parchment paper and roll it until it is fairly thick - about 1-1.5 inches thick.
Cut out 8 circles using a cookie cutter or small bowl (approx 3inches in diametre)
Place the circles of dough onto a cookie sheet lined with parchment.
Brush the top of the dough with a beaten egg.
Bake at 425°F/220°C for 10 minutes - if the tops begin to brown quickly, place a sheet of tin foil over top so they won't burn.
Take out after 10 minutes and cool!
Serve!
Notes
This makes approximately 8 scones (or 4-5 bigger scones)
Nutritional Information per scone:
CALS: 122
FAT: 9.7
CARBS: 3.1
FIBRE: 1.5
NET CARBS: 1.6
PROTEIN: 7.1