These keto Swedish meatballs are SO easy to make and the best part is that it is all made entirely in one pot, so no need to dirty a hundred dishes! It can also be made in a crockpot!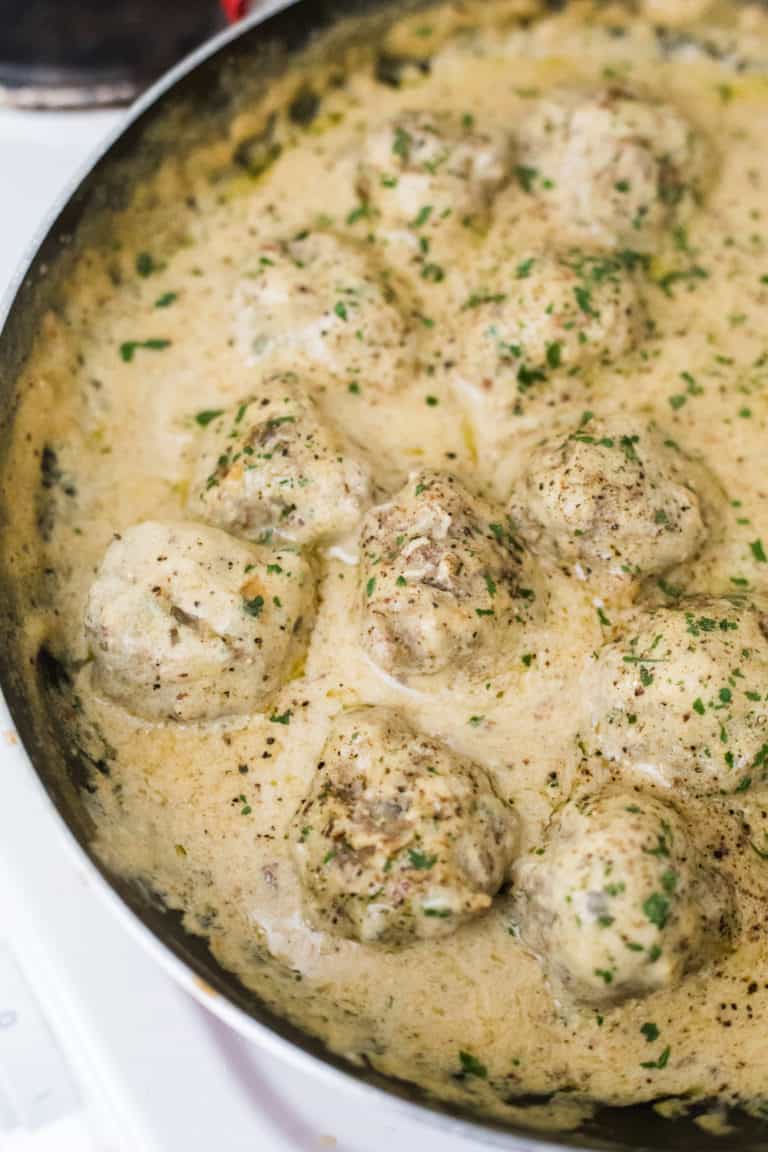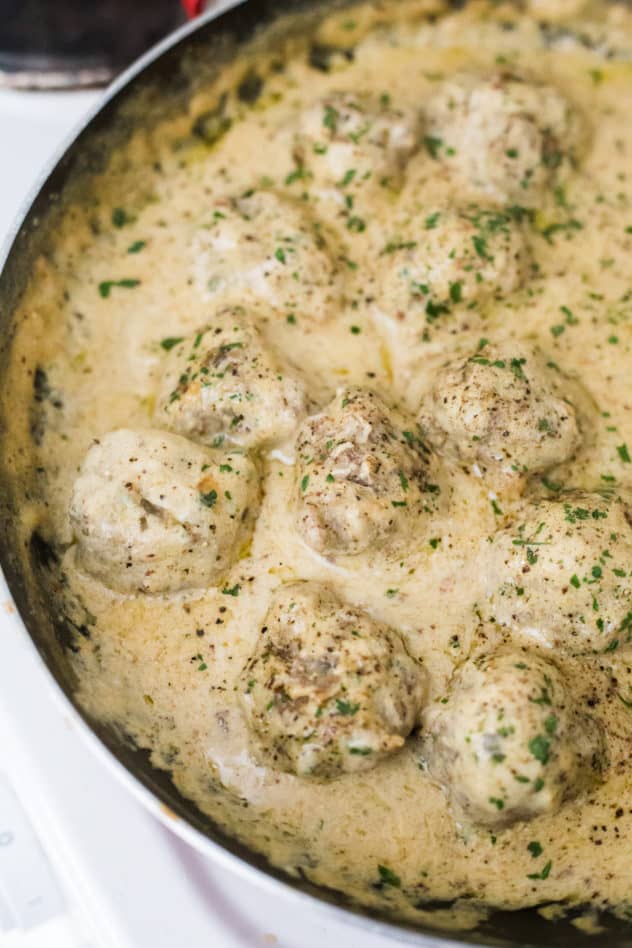 Now you may have had authentic Swedish meatballs in Sweden, or maybe you've bought some while you were shopping at Ikea.. either way, you will LOVE these!
They are fairly easy to make but I have a few tips!
I suggest chopping the onion very fine – mine were a bit too big for the meatballs, but it still worked out ok.
As well, I'd use beef with the highest fat count available to you. I bought mine at Tesco and they were 18% fat… but I saw some as low as 5%.. Ideally, for keto, you want the high fat meat.
You will find that the when you add the broth and sour cream, it might be really liquidy. This is why I let it simmer for about 30ish minutes. That will evaporate a lot of the excess water and thicken up the sauce quite a bit.
I recommend serving with a side of cauliflower rice. YUM.
If you like this recipe, make sure to check out my keto enchiladas or keto taco casserole!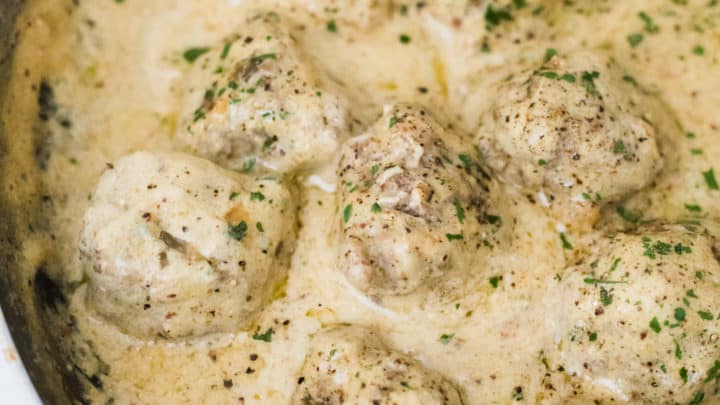 Yield:

4
One Pot Keto Swedish Meatballs
One pot keto Swedish meatballs! So easy to make and perfect to serve with cauliflower rice!
Ingredients
MEATBALLS:
1 package (400g) ground beef
1/4 cup (40g) onion - chopped
1/4 tsp nutmeg
1/4 tsp salt
1 egg yolk
SAUCE:
3 tbsp butter
1.5 (350ml) beef broth
1/4 tsp xanthan gum
3/4 cup (180g) sour cream
1 tbsp dijon mustard
Instructions
In a wok or deep pan, mix together all the ingredients for the meatballs.
Use your hands to form the meat into several balls just a tad smaller than a golf ball.
Place the pan over medium-high heat and saute the meatballs until they are cooked thoroughly.
Take out the meatballs and set them aside to add in later. Turn the heat down to medium.
Keep the beef fat in the pot and scoop in the butter to melt.
Once the butter has melted, stir in the almond flour and xanthan gum.
Pour in the beef broth and bring to a boil.
Scoop in the dijon mustard, sour cream and add the pepper.
Mix thoroughly until the sour cream has been incorporated. Bring to a simmer.
Place the meatballs back into the pan and simmer for 30 minutes or until the sauce has been reduced by half.
Enjoy with your favourite side dish!
Notes
This makes roughly 4 servings.
Nutritional Information per serving:
CALS: 379
FAT: 27.9
CARBS: 5.4
FIBRE: 1.3
NET CARBS: 4.1
PROTEIN: 28