Yes! Keto enchiladas with actual tortillas instead of cabbage or lettuce. You won't even be able to tell the difference, plus each enchilada is only 5 whole carbs!
The other day I made my keto tortillas and immediately I knew I had to make some enchiladas with them.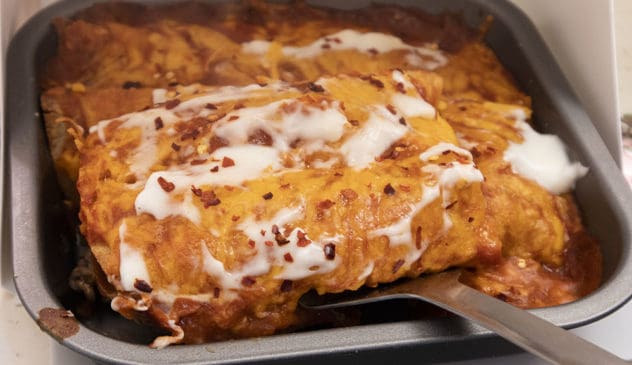 Now it's best to use the tortillas when they are nice and fresh. I used mine that were about 2 days old (and poorly stored) and they definitely were useable but also tore a little easy so best use the freshies.
Now you can fill your enchiladas with anything you want. I chose to use ground beef and cheddar cheese, but some people use cheese only or include salsa verde or even shredded chicken.
Usually when I see someone make enchilada sauce, they make it on the stove, but to be honest, I see no point as it will go in the oven anyway, so I threw it in the blender for a smooth sauce.
When it was done, I topped it with some sour cream and extra chilli flakes. So good and spicy!
If you like these, make sure to check out my keto chocoflan, keto white bread, keto tamales and keto Hawaiian sweet rolls!