The holiday season is upon us and that means it's time to host parties or visit friends and family.. but what keto dish can you bring to satisfy any and all guests? Cheese of course – but more specifically a keto baked brie with cranberry sauce!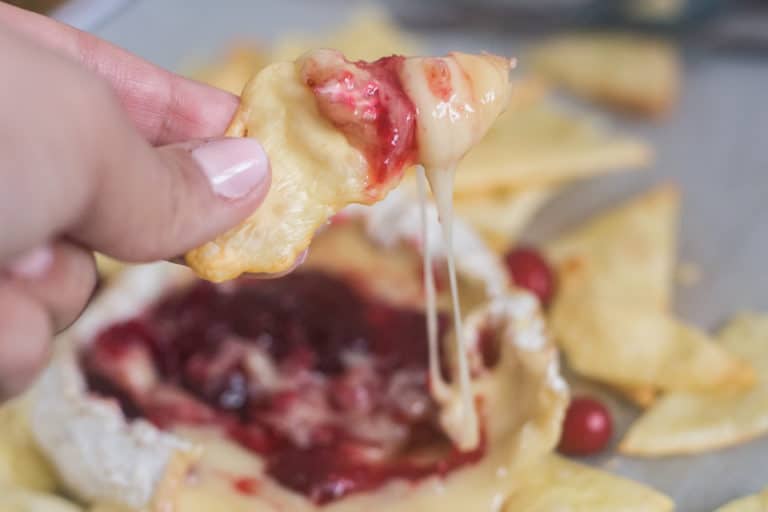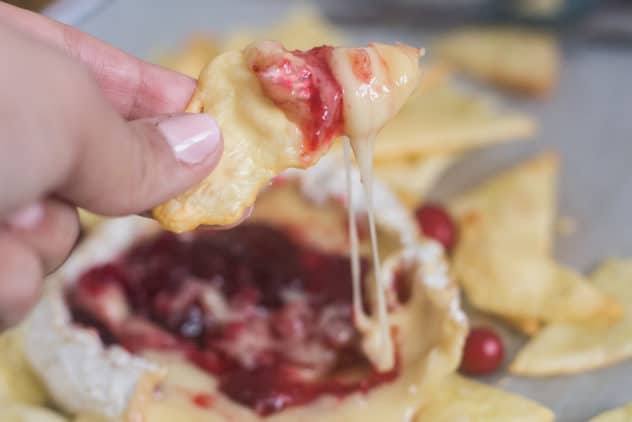 This is actually super easy to make and the end result is a creamy cheese with a hint of cranberry.
I ended up using raw cranberries for this recipe, but you can use frozen. I realize it seems like there might be a lot of sugar sub but to be honest, it needed it.
When I first made it, the sauce was too bitter – it needed that extra sweetness. If you taste it and it seems to be a bit bitter for your liking, I recommend adding in another 3 tbsp sugar sub and 1/4 cup extra water and continue to cook it down. That should balance it out a bit.
Some people say that using confectioners sugar substitute is better so that it won't crystallize when cooled but to be honest, I didn't have this issue at all.. However if confectioners is all you have, it will work too!
As for dipping – I used my keto cheese crackers, but my dinner rolls would also work as a great dipper!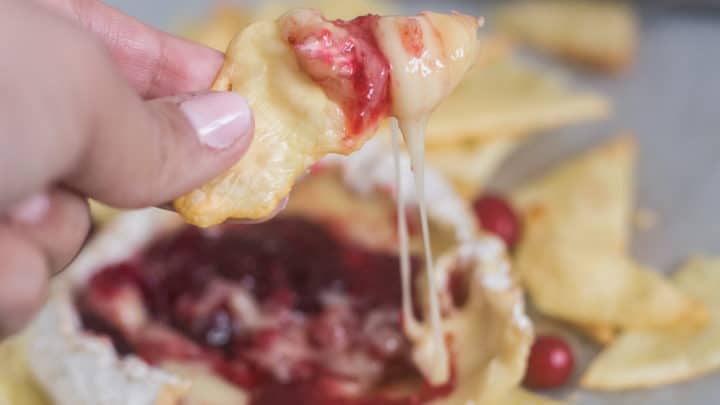 Yield:

4
Keto Baked Brie and Cranberry Sauce
Wow your guests with this amazing keto baked brie topped with a sugar free cranberry sauce! 1.2 net carbs per serving if shared between 4 people.
Ingredients
1/2 cup (50g) cranberries frozen or raw
1/2 cup (118ml) water
1 brie wheel (approx 200g)
Instructions
Place the cranberries, sugar substitute, water and maple syrup into a pot over medium high heat.
Stir frequently to avoid any burning.
Cook for about 10-ish minutes and the cranberries will begin to soften.
You can keep them in their shape or if you'd like, mash them with a fork or spoon. I like a smoother sauce so I mashed mine.
Turn down to medium and continue to cook until the water evaporates and the sauce begins to thicken up.
Take off heat.
Use a knife to cut the rind off the top of the brie cheese. This is for optimal melting.
Spoon the cranberry sauce on top of the brie.
Place on a cookie sheet lined with parchment paper.
Bake at 350°F /175°C for 7-10 minutes.
Serve immediately!
Notes
This is great to share between 4 people!
Nutritional Information per serving (if shared between 4 people)
CALS: 132
FAT: 10.4
CARBS: 1.8
FIBRE: 0.6
NET CARBS: 1.2
PROTEIN: 7.8