Last week I made a raspberry lemon pound cake and it was delicious! This time I thought I'd try to make a keto blueberry pound cake!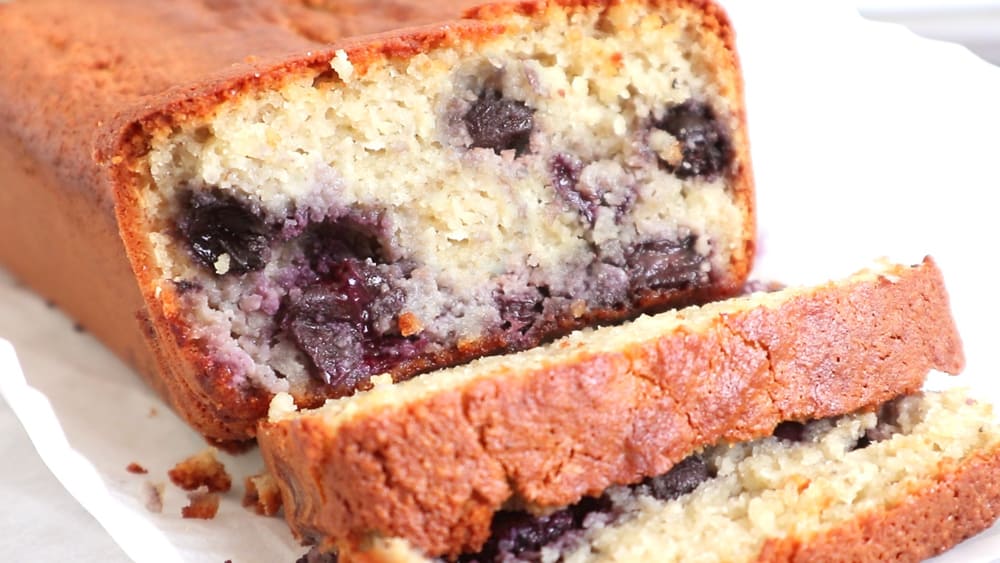 The recipe is fairly simple – all you need to do is mix the ingredients together and bake!
Now I used a yummy cake batter flavouring alongside a traditional vanilla extract and it was perfection BUT you don't need it. If you don't have it, you can leave it out or replace it with lemon extract! That would be equally as delicious.
I used frozen blueberries for this blueberry pound cake and let them thaw before adding them to the batter. However, you'll notice in the video – I added some blueberry juice from the fruit – this was unintentional. I meant to add the blueberries, but forgot that some liquid from the thawing was at the bottom so I ended up pouring in the liquid by accident.
Again, that liquid is optional – you can leave it out. I don't think it added to the flavour profile at all.
I hope you like this keto blueberry pound cake! If you do, make sure to check out my keto lemon raspberry loaf or my Starbucks copycat lemon poppyseed loaf!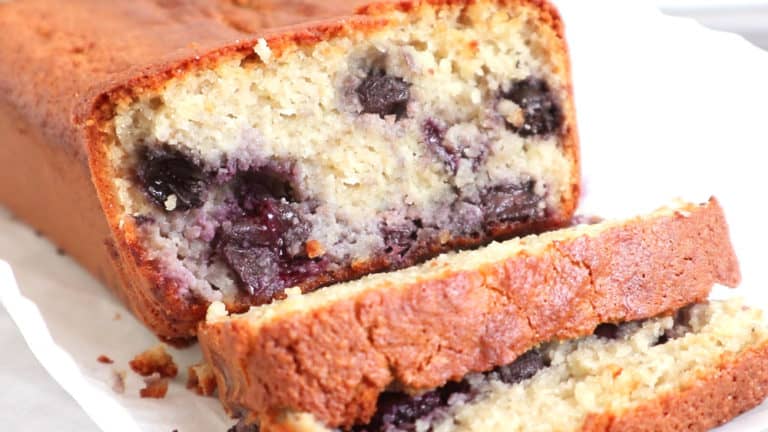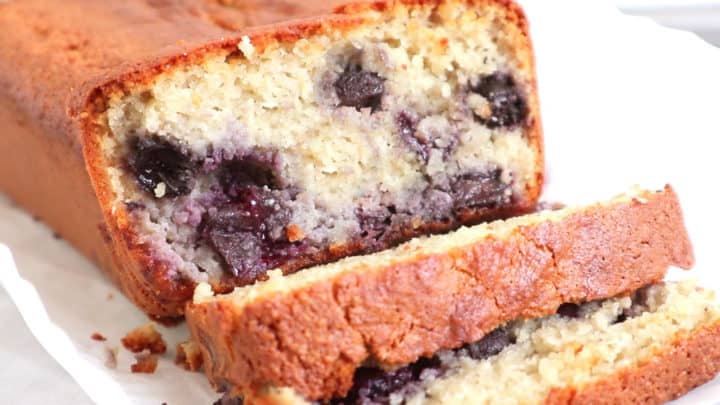 Yield:

12
Keto Blueberry Pound Cake
Ingredients
2 tsp baking powder
2 eggs
4 tbsp butter - melted
4 tbsp sour cream
1 tsp vanilla
1/2 tsp cake batter flavouring (optional)
2 handfuls (approx 1/2 cup/50g) blueberries
Instructions
In a mixing bowl, whisk together the dry ingredients.
Stir in the wet ingredients except the blueberries.
Once the batter is completely mixed, add in the blueberries.
Pour into a loaf tin (I used 9x5)
Bake at 350°F / 175°C for 45-50 minutes.
Let cool completely before cutting.
Notes
This makes around 12 slices.
Nutritional Information per slice:
CALS: 163
FAT: 14.7
CARBS: 5.2
FIBRE: 2.1
NET CARBS: 3.1
PROTEIN: 5.1