I LOVE breakfast wraps. LOVE them. I especially loved the ones from Tim Hortons when they had the chipotle sauce but alas – they are full of carbs and the cheese is probably only 3/4 processed.. they just generally aren't good for you. So now it's time for a keto breakfast wrap – one that would be easy and take minimal time. I didn't want to spend 30 minutes making a tortilla – and I didn't! I came up with a quick keto egg wrap that tastes amazing!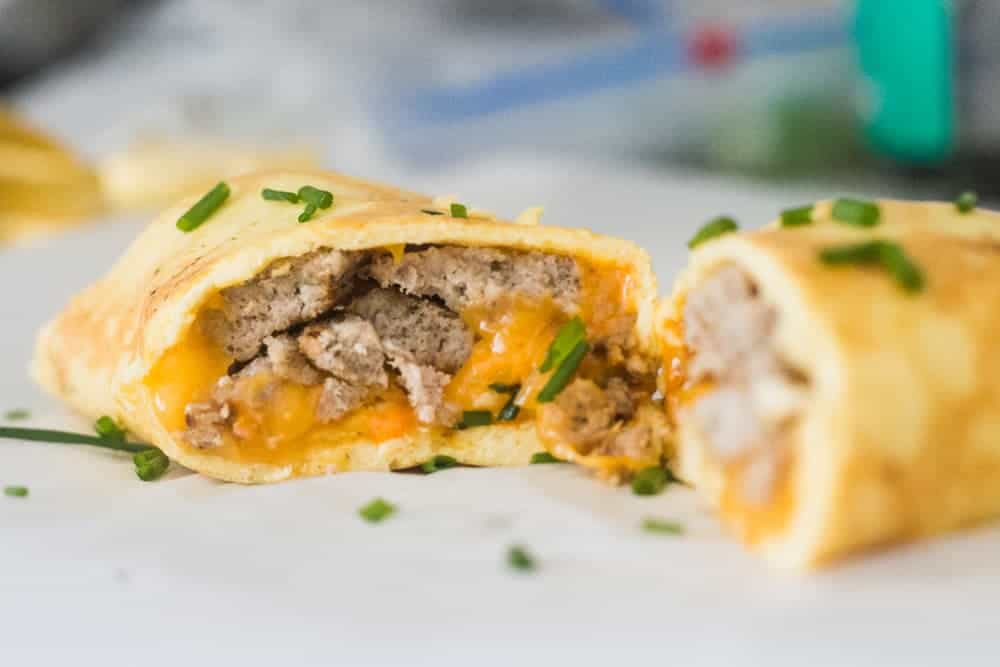 Now I know you're all looking at the picture, wondering – where is the egg? And oh – it's there. The wrap is made of the egg! Because I don't like a huge eggy taste, I added a ton of cheese to the eggs to tone it down and boy did it work.
All you have to do for the keto egg wrap: whisk the egg and cheese together really well.. Make sure there are no clumps – then pour into a pan over medium heat and cook until nice and firm. It should be easy to lift without tearing.
Once firm, add your favourite toppings – I used sausage, cheese, chives and some sriracha but the possibilities are endless!
Lift out of the pan and wrap! SO easy! It's basically keto breakfast burrito but with barely any carbs!
If you like this keto egg wrap, make sure to check out my keto coconut pancakes, keto vanilla pancakes or my keto chocolate chip muffins!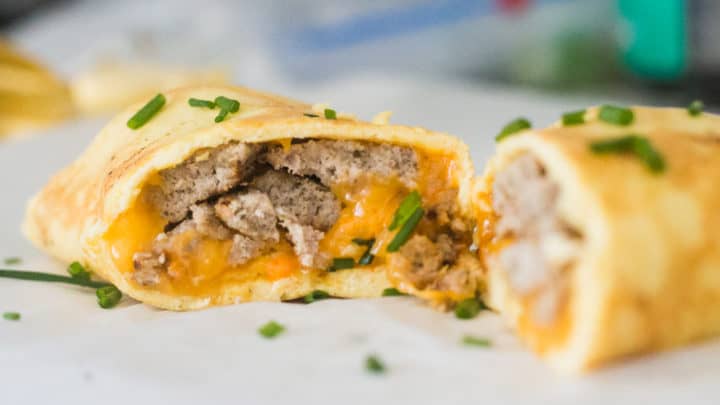 Yield:

2
Keto Breakfast Egg Wrap
Make a keto egg wrap in 5 minutes! Super easy and you can fill with whatever you like. Only 2.2 net carbs for the egg tortilla!
Ingredients
WRAP:
3 eggs
1/2 cup (50g) parmesan cheese - grated
2 tbsp cream cheese
1 tbsp butter (for cooking)
FILLING (What I used):
2 sausage patties - cooked
2 handfuls of cheddar cheese
chives
sriracha mayo
Instructions
In a mixing bowl, whisk together the eggs, cream cheese and parmesan cheese. Make sure there are no clumps.
In a medium size pan over medium heat- melt the butter.
Pour in half the egg mixture - it should cover the bottom of the pan and be about 1/2 inch thick.
Cook on medium heat until the egg is firm to the touch and able to lift easily without tearing.
Once firm - add your toppings and continue to cook for an additional 2 minutes.
Slide off the pan and cool momentarily before wrapping and enjoying!
Hope you all like!
Notes
This makes 2 breakfast wraps!
Nutritional Information per breakfast wrap:
CALS: 388
FAT: 29.4
CARBS: 3.3
FIBRE: 0
NET CARBS: 3.3
PROTEIN: 27.8
Nutritional Information (EGG WRAP ONLY)
CALS: 253
FAT: 18.4
CARBS: 2.2
FIBRE: 0
NET CARBS: 2.2
PROTEIN: 18.8