Looking for an easy and flavourful bread? I got news for you! This grain free rosemary bread is SO good and so easy to make. No kneading required!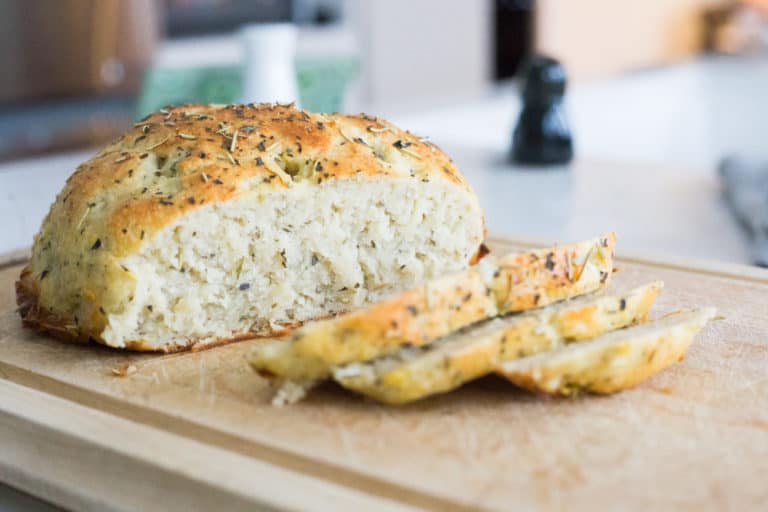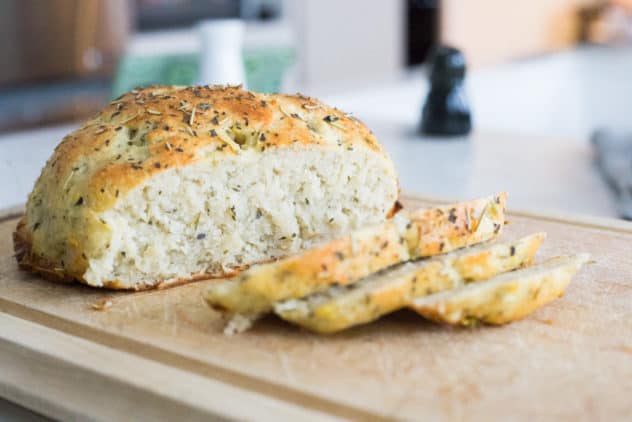 The two base flours I used for this are almond and arrowroot. Almond flour is great to use because it's low carb and arrowroot flour, while it does have carbs, is actually low glycemic. So it's a perfect mix for someone doing a low carb diet.
Now, this is probably not for people doing strict keto. The arrowroot is higher in carbs but if it fits your macros – go for it!
This bread is a based off of two recipes I spotted when I was in the testing phase. The first one is Dr. Bergs "Healthiest Bread in the World". The second is from Jess at PaleoGrubs. I highly recommend checking both those recipes out!
Hope you like this grain free rosemary bread! Make sure to check out my grain free jalapeno cheese bread!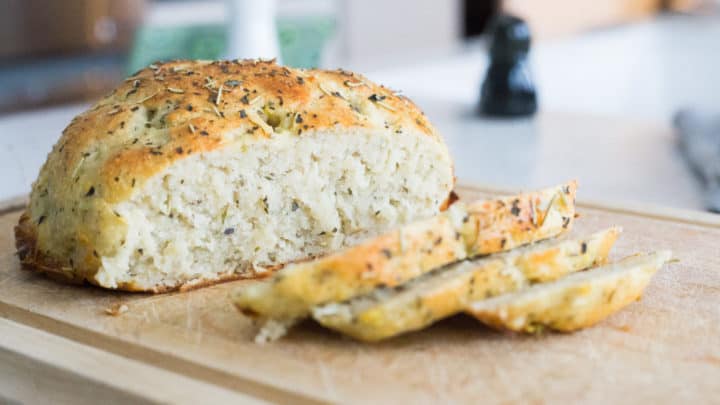 Yield:

15
Grain Free Rosemary Bread (Low Carb)
Rise Time:
1 hour
30 minutes
Total Time:
2 hours
30 minutes
This grain free rosemary bread is perfect to serve warm with some butter. Highly recommend!! Great for low carb and IIFYM
Ingredients
1.5 tsp instant yeast
2 tsp sugar
1/4 tsp pepper
1 tsp dried oregano
2 tsp rosemary
1/4 tsp salt
2 large eggs, separated
1/3 cup (80ml) + 2-3 tbsp warm water
2 tsp minced garlic
1 tbsp olive oil
Instructions
In a bowl, mix together the almond flour, arrowroot flout, xanthan gum, instant yeast and sugar. Mix.
Add in the salt, pepper, oregano and rosemary. Mix again.
Pour in the egg whites, 1/3 cup of water and the 1 tsp of minced garlic.
Use a spoon to stir it all together.
If there is still some dry flour leftover, add a tbsp of water, mix and add more if neccessary.
Place the dough onto a piece of parchment paper.
Use wet hands to form a loaf and then place into a dutch oven or deep casserole dish.
Take your egg yolks and add in 1 tsp of minced garlic and some pepper.
Brush the top of the dough with the yolks.
Cover and let rise for 1.5 hours.
Once risen, bring the oven up to 400°F / 200°C.
Bake for 30 minutes covered, then 10-15 minutes uncovered.
Watch to make sure the top doesnt burn. Take out when it was lightly browned.
Let cool and enjoy!
Notes
This makes roughly 15 slices.
Nutritional Information per slice:
CALS: 127
FAT: 9
CARBS: 9.1
FIBRE: 1.9
NET CARBS: 7.2
PROTEIN: 4.1