Ok hear me out. Corn dogs….but with CHEESE stuffed inside. Right? RIGHT? I got the idea from "Tasty" but we all know it needs to be a keto option. So total I made cheesy keto corn dogs and they were amazing.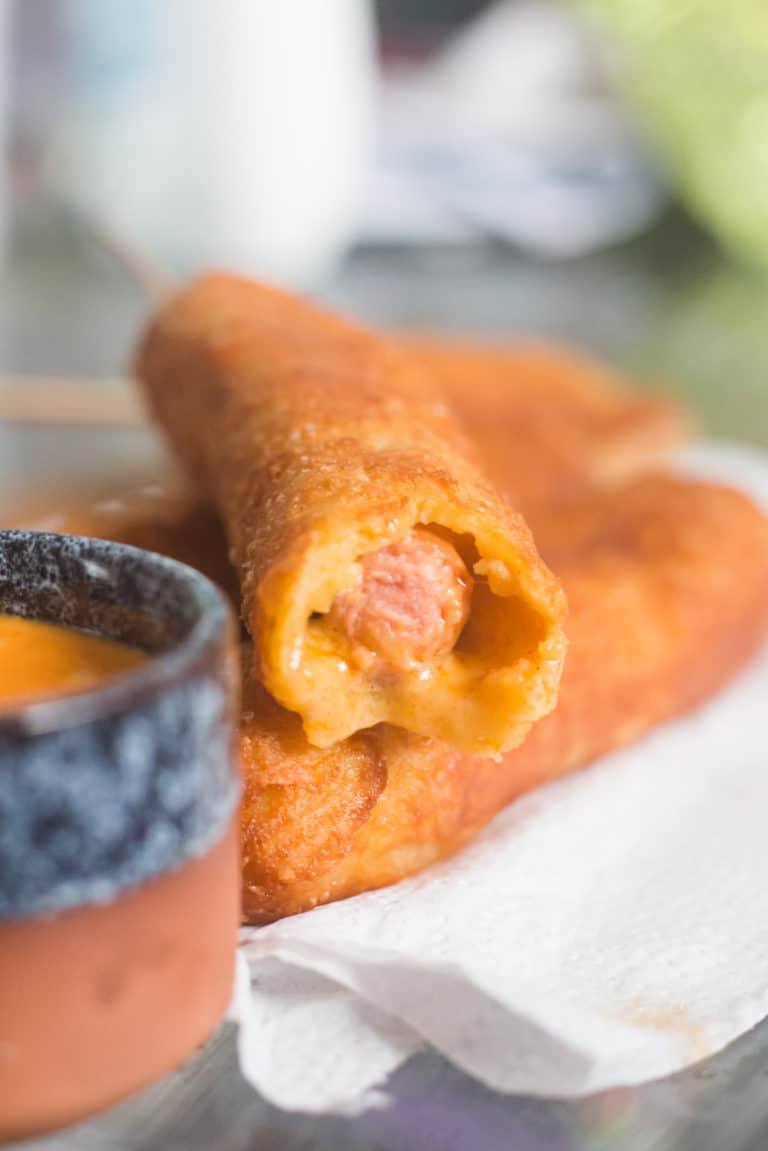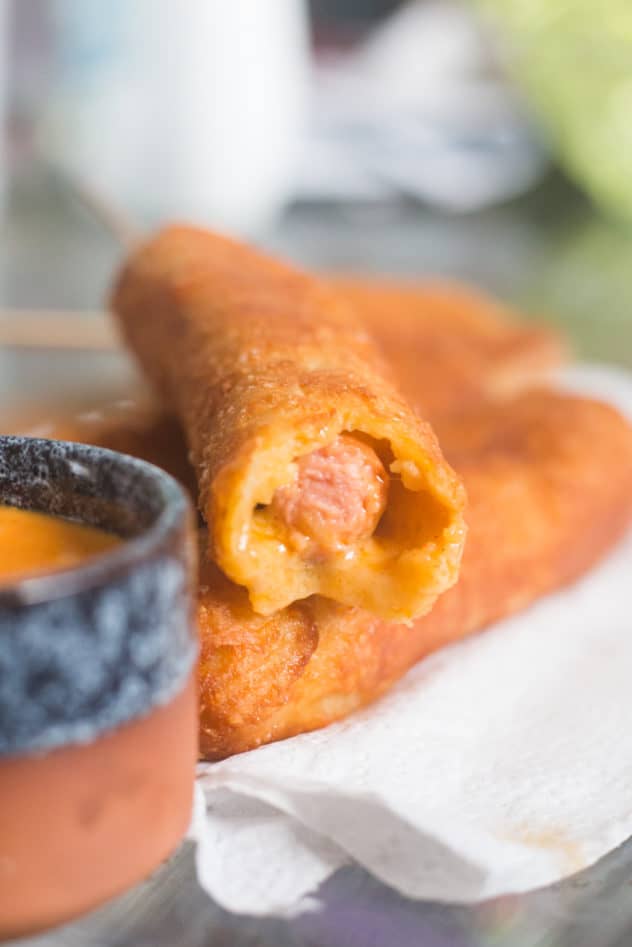 Obviously there's no corn in here. Instead I used the 'corn bread' flavour from 'OooFlavors' (not sponsored). It gives it that corn flavour without being too harsh.
For the dough, I decided to use fathead dough.. While I usually try to stay away from it and make other types of dough, this is the best, so far, to hold together and keep the cheese inside from spilling out and falling apart. I dont think my typical eggless whey batter would work very well in this recipe.
Now let's talk cheese. For the filling, I used a cheese labelled "Mexican"… it's basically just a sharp cheddar with chilli's in it and it is DELIGHTFUL. Honestly, I could eat this entire triangle. However you can use whatever cheese you want.. like regular cheddar, mozzarella, edam etc.
As for the hot dogs – it's best to try to find ones that are uncured and organic. Applegate is a good brand that is ZERO carb! Hebrew brand is also one that is low carb and delicious.
One more note before I get into the recipe – you don't have to deep fry them. You can also bake them for about 30 minutes (or until brown) at 350°F / 175°C.
If you like this these cheesy keto corn dogs, make sure to check out my eggless corn dogs and jalapeno poppers!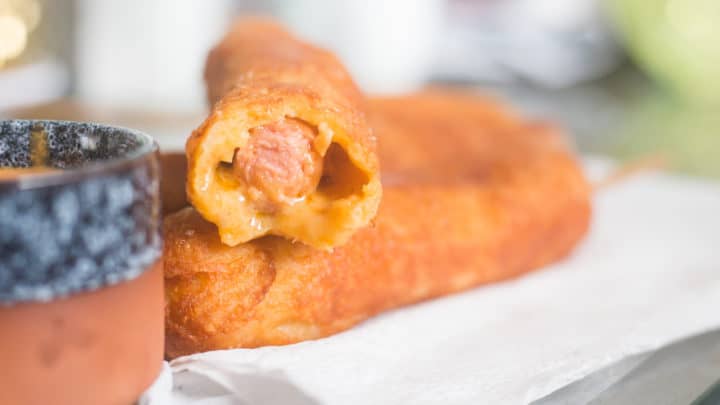 Yield:

6
Cheesy Keto Corn Dogs
Corn dogs....but stuffed with cheese! These pogo sticks are the perfect low carb snack for the kiddies! You can deep fry or bake these keto corn dogs!
Ingredients
2 cups (200g) mozzarella cheese
1 medium egg
6 hot dogs (1 carb or less per link)
1 cup (100g shredded cheddar
Oil for frying
Instructions
Bring the oil up to temperature over medium heat. (Make sure to be safe when deep frying - a baking option is below)
In a bowl (or on medium on stovetop) melt the mozzarella cheese.
Crack in the egg and mix thoroughly.
Add in the almond flour and mix until a dough forms. You will eventually need to use your hands to knead it together.
Place the dough between two pieces of parchment paper and roll flat until it's about 1/4 inch thick.
Cut out a square out of dough - make sure that it is big enough that you will be able to wrap securely around a hot dog.
Place some ofthe shredded cheese onto the square dough.
Take your hot dog and stick the wooden stick into one end of the dog so that it is secure and won't slip off.
Place the hot dog at one end of the square dough with cheese and wrap like a carpet (or a cigar)
Pinch and press the dough together so that it covers all the hot dog and there's no openings.
Immediately drop into the hot oil and cook for 3-5 minutes - or until golden brown. (Alternatively, place on a baking sheet lined with parchment paper and bake at 350°F / 175°C for 30 minutes)
Enjoy and serve!
Notes
This makes about 6 corn dogs.
Nutritional Information per corn dog.
CALS: 314
FAT: 31.4
CARBS: 5.6
FIBRE: 2
NET CARBS: 3.6
PROTEIN: 24.8