If you're like me, one of the staples of going to a shopping mall or centre is grabbing one of those soft pretzels.. Unfortunately they are FILLED with carbs. So today I made low carb pretzels that rival your favourite pretzel shop!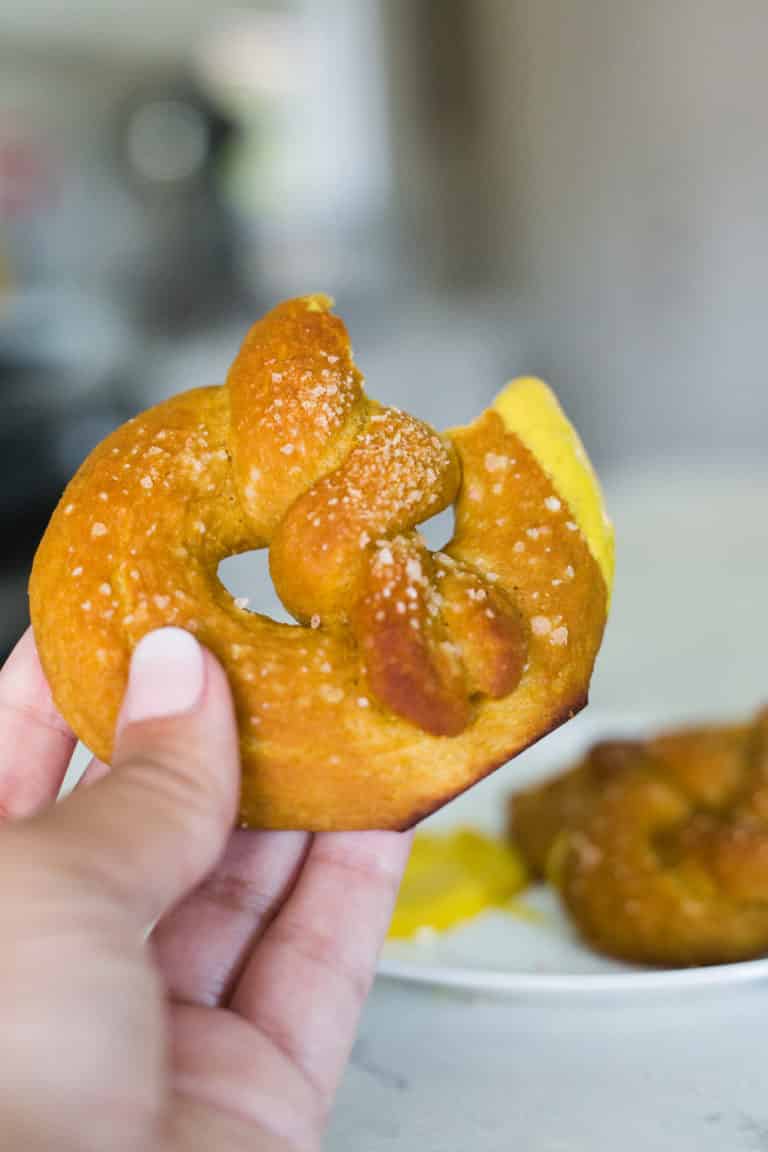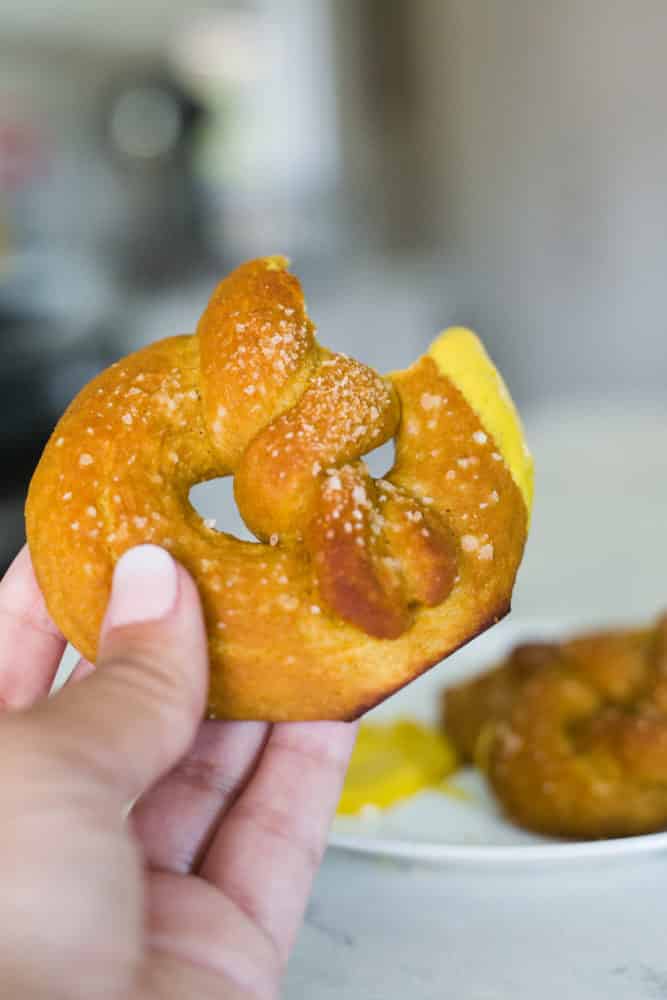 Now, this recipe is made with vital wheat gluten and lupin flour. You can substitute the lupin flour for almond four, by following this recipe.
When using a stand mixer for kneading vital wheat gluten bread, I highly recommend using the 2nd setting. Not low, but the one after low. Start with your paddle and once it becomes a ball of dough where the dough stretches, then you can swap out to the dough hook. It took me about 30 minutes for it to be kneaded completely. Make sure that the dough is smooth and doesn't tear when pulled.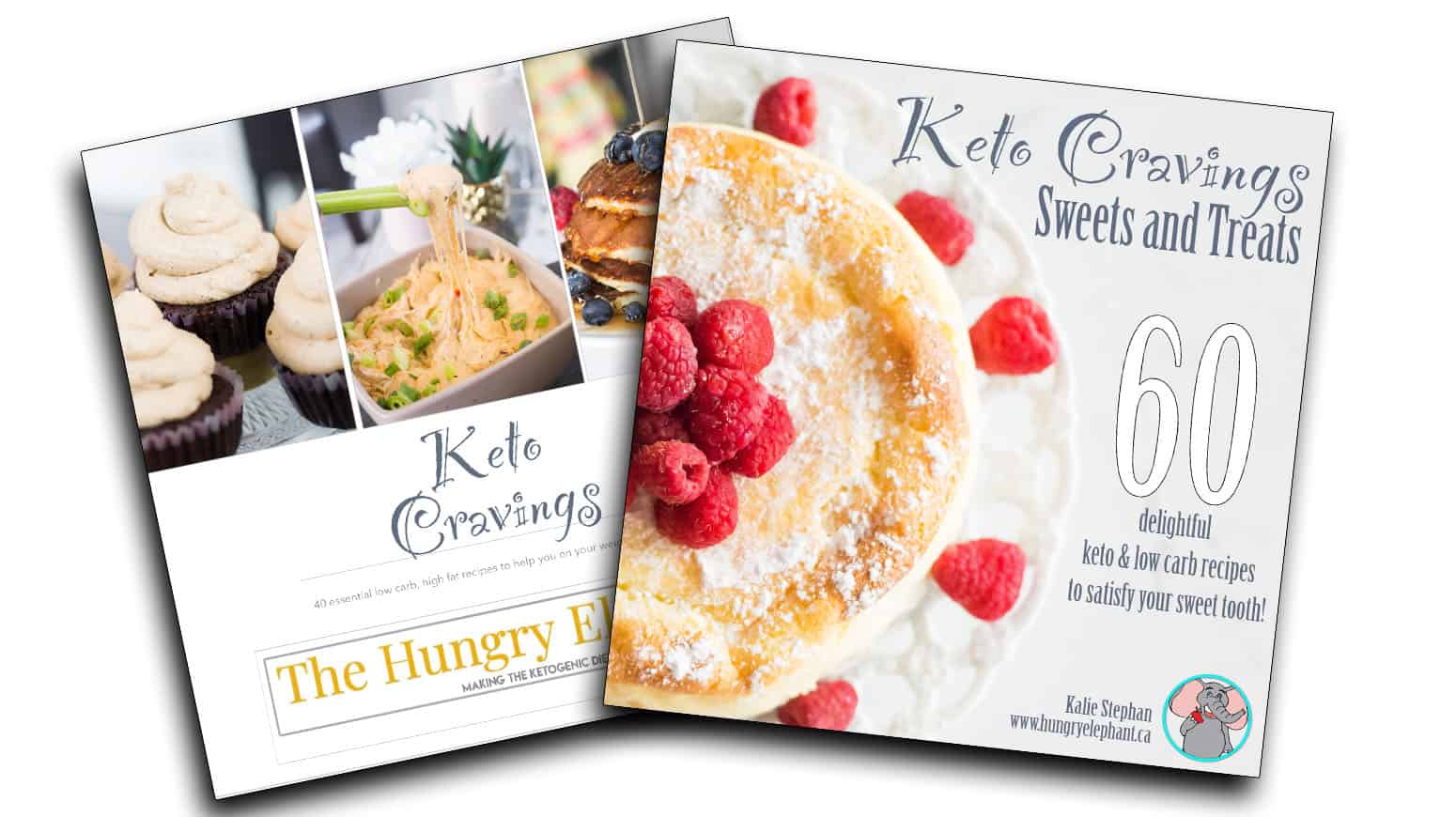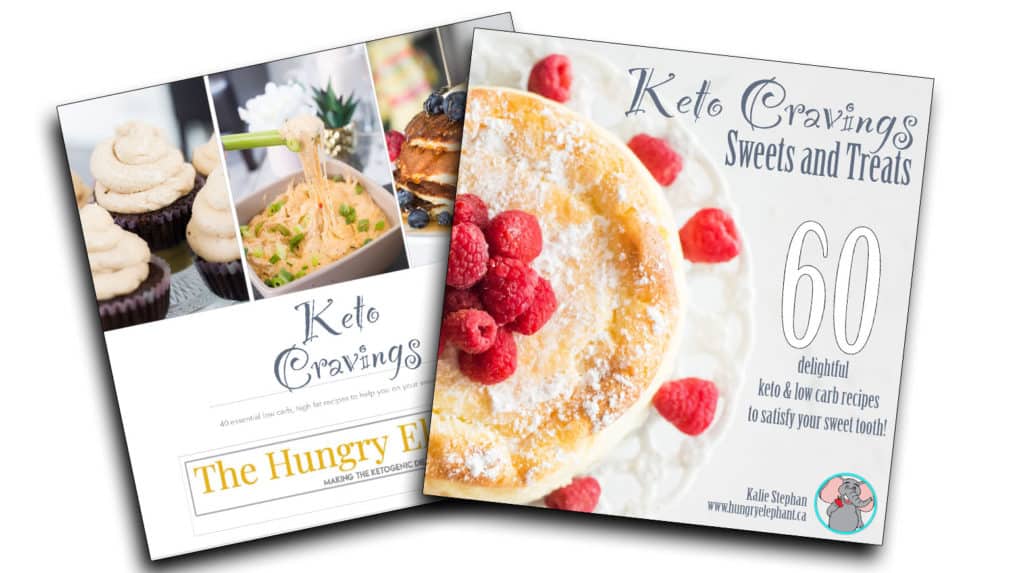 To be completely honest, using vital wheat gluten can be difficult without all the starch and carbs so for this recipe I added a tbsp of arrowroot flour to help with the gluten formation and a tbsp of brown sugar to help with activating the yeast.
You may be asking yourself, are these keto pretzels? Well they can be depending on your carb intake. Remember – vital wheat gluten is a protein!
One more note before I write the recipe, make sure your baking soda is GOOD – I tried it once where my baking powder was bad and it just slightly fizzled in the water. You want that big reaction and that's why we use a deep pot.
Please also note that this recipe, while SO delicious, may taste a little different due to the flours, but if you do the baking soda bath correctly you should have that iconic pretzel taste.
If you like these low carb pretzels, check out my keto pretzel bites!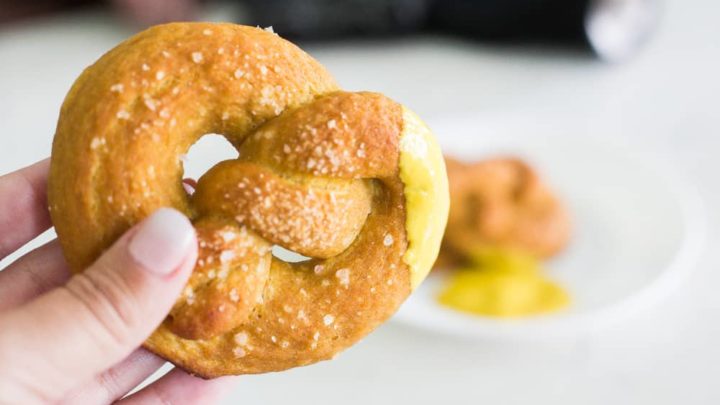 Yield:

12
Low Carb Pretzels (no fathead!)
Delicious low carb pretzels! Super easy to make! Using a baking soda bath will give it that iconic pretzel taste. Only 2 net carbs per pretzel!
Ingredients
PRETZEL
25g inulin (optional)
1 tbsp arrowroot flour
1 tbsp brown sugar
2 tbsp melted butter
2 1/2 tsp (1 packet) quick yeast
salt
245ml warm water
2 tbsp olive oil (not in video)
BATH
4 cups water
4 tbsp baking soda
Instructions
In a stand mixer bowl, add your vital wheat gluten, lupin flour, arrowroot flour, inulin, sugar and yeast.

Mix thoroughly

Add about a half tsp of salt and mix again.

Turn the mixer on low, while slowly adding your water. Once you've added about 3/4 of the water, slowly pour in the butter.

Slowly pour in the rest of the water, make sure it doesn't pool at the bottom of the bowl otherwise it might muck up the dough - make sure its mixed in before adding more.

Turn the mixer up to the next notch and knead with the paddle until it has formed a dough ball and has begun to stretch.

Attach the dough hook and knead again until smooth and it doesn't tear. This took me at least 30 minutes.

Once kneaded, take out and rub with a little olive oil and wrap lightly with seran/cling wrap. Set aside.

Bring your 4 cups water to a boil.

Add in the 4 tbsp of baking soda tbsp by tbsp. It will puff up so be careful!

Divide your dough into 12.

Take one section of dough and roll it about the length of your fore arm.

Form a pretzel shape and then use a slotted spatula to dip the pretzel in the water bath. Dip it for around 10 seconds - but no more than that or it will begin to dissolve.

Once it has been dipped in the water bath, place on a cookie sheet lined with parchment paper or a silicone mat.

Sprinkle some salt on top and continue on with the rest of the 11 dough sections.

Once you've made all your pretzels, bake at 400°F / 200°C for 10-15 minutes until a nice dark golden brown.

Take out and let cool..

Enjoy with some mustard or a delicious cheese dip!



Notes
This makes 12 pretzels.

CALS: 78
FAT: 2.8
CARBS: 6.2
FIBRE: 4.2
NET CARBS: 2
PROTEIN: 10.8