Who wants some cereal?? I know I DO! It's one of the most requested recipes, I've found and now we have a keto cinnamon toast crunch cereal recipe!
This recipe is actually really easy and pretty quick to whip up. Double the ingredients to make in bulk.
One thing I will suggest is to make the squares fairly small. I THOUGHT I made mine the same size as the actual cereal but turns out they were a little bit larger. Equally delicious though!
One note, do NOT swap out the protein. You can try another kind of protein, like pea or egg but the amount of protein is what gives it the good crunch. In the oven, the protein will dry out and be crispy and delicious!!
Don't worry if you take them out of the oven and is still a bit bendy – they will harden up as they cool down!
I hope this will satisfy your cereal crunches! I will be hoping to make some more in the future!
If you like this recipe, I highly recommend my keto protein breakfast, keto waffles OR keto banana muffins!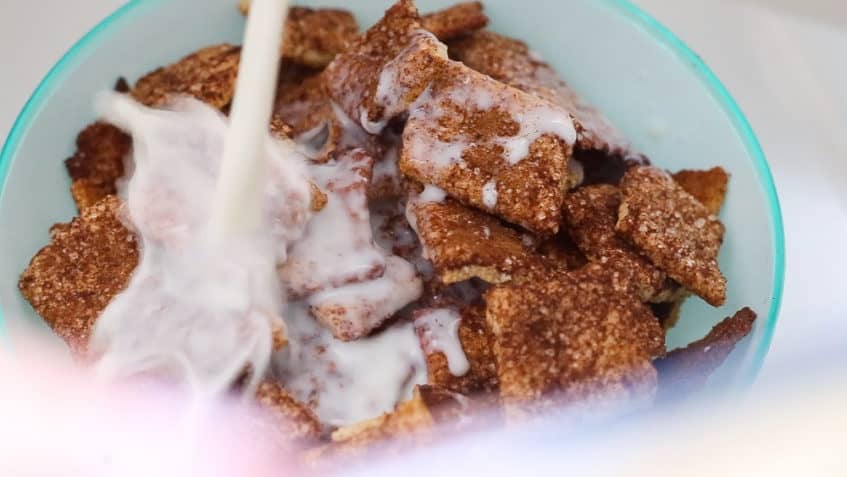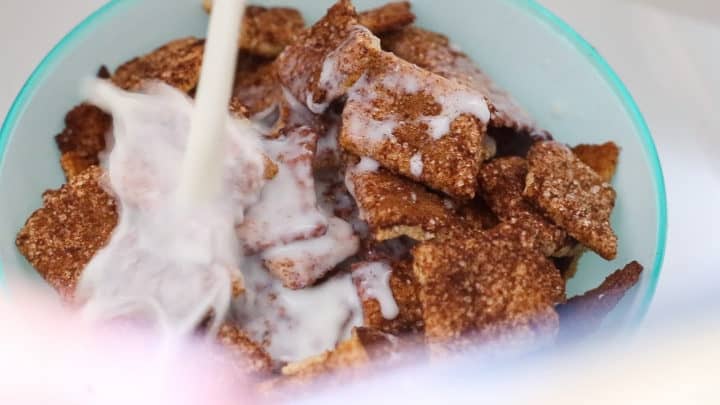 Yield:

4
Keto Cinnamon Toast Crunch
All the deliciousness of Cinnamon Toast Crunch without the guilt of carbs and sugar. Only 1.6 net carbs per serving and SO easy to make.
Ingredients
1 tsp xanthan gum
1 tsp baking powder
2 tsp cinnamon (+ extra for sprinkling)
1/4 cup (50g) + 2 tbsp melted butter
1 medium egg
1 tbsp water
Instructions
In a mixing bowl, whisk together the dry ingredients including the 2 tsp of cinnamon and 1/4 cup of sugar substitute.
Crack in the egg and pour in the butter and water.
Stir thoroughly, then use your hands to form it into a dough ball.
It will be a little sticky, so set it aside for a minute and let the psyllium absorb the excess butter and water.
Roll the dough flat between two sheets of parchment paper.
Use a knife to cut the dough into a large rectangle and then cut several horizontal and vertical lines to create several smaller rectangles, similar in size to Cinnamon Toast Crunch.
Take off any excess dough around the sides that are too thin or thick. Set it aside for a second batch.
Place flat and cut dough into the oven and bake at 350°F / 175°C for 10 minutes or until nice and browned on the top.
Take out and let cool while you put in the rest of the dough.
Once cool, these will firm up and you can snap them apart where you cut the lines.
Place in an air-tight container for storage or place in a bowl and add some almond milk!
Enjoy!
Notes
This makes roughly 4 servings.
Nutritional Information per serving:
CALS: 313
FAT: 25.5
CARBS: 5.1
FIBRE: 3.5
NET CARBS: 1.6
PROTEIN: 17.8
Nutrition Information:
Yield:
4
Serving Size:
1
Amount Per Serving:
Calories:

313
Total Fat:

25.5g
Carbohydrates:

5.1g
Fiber:

3.5g
Protein:

17.8g