I don't know about you, but I really love chocolate pie. It's just so yummy and creamy. So I figured I'd make a keto chocolate pie that will rival a regular one – but without all the carbs of milk & crust.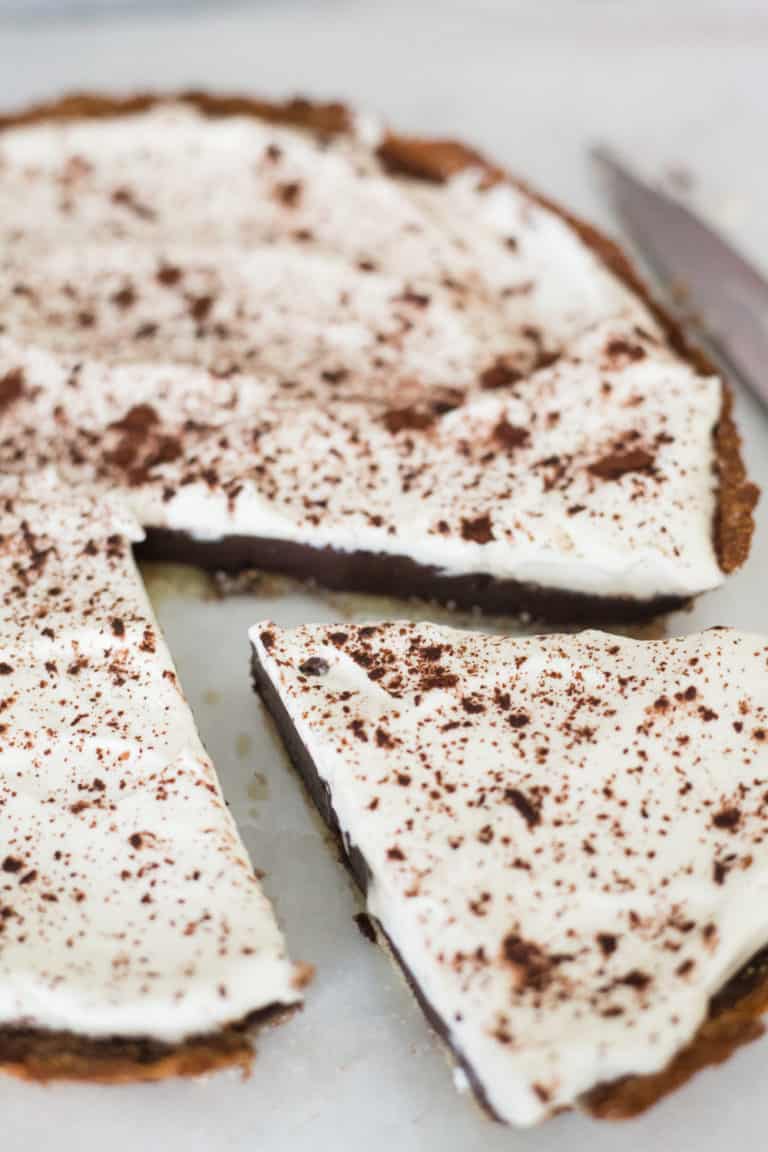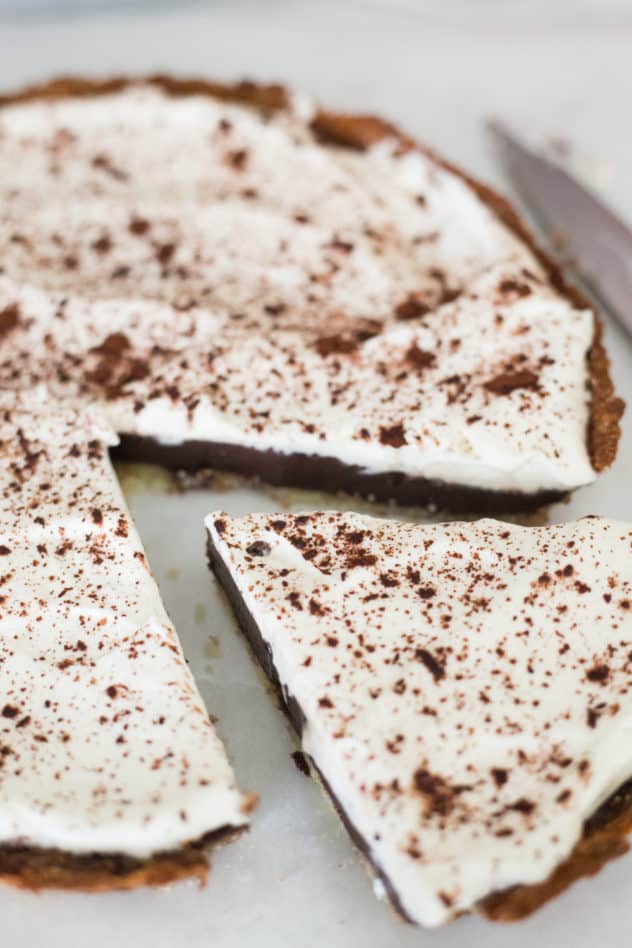 I gotta say, this pie is extremely easy to make. Honestly! Even a novice baker can throw this together in no time with great results!
This pie is chocolatey, creamy and topped with a PERFECT whipped cream. There's nothing better to be honest and if you have a sweet tooth – this dessert is for YOU.
I've been getting comments on Instagram about the lack of recipes using coconut flour so it was time to pull out the sweet coconut flour pie crust! I found it at The Coconut Mama last year and I've been using it ever since! So send her all the love for the pie crust. She's awesome! (LINK HERE)
The chocolate inside is an easy mix of cream, eggs, chocolate and sugar substitute. You don't have to use the stovetop either – it just goes straight in the oven to set in there. EASSSSY.
For this pie, I used an 8-inch pie pan – mine isn't very deep, so if yours is, you may have to double the ingredients.
Hope you guys like this recipe! Make sure to check out my other pies like keto pecan pie, keto mock apple pies, keto pumpkin pie and keto banana cream pie!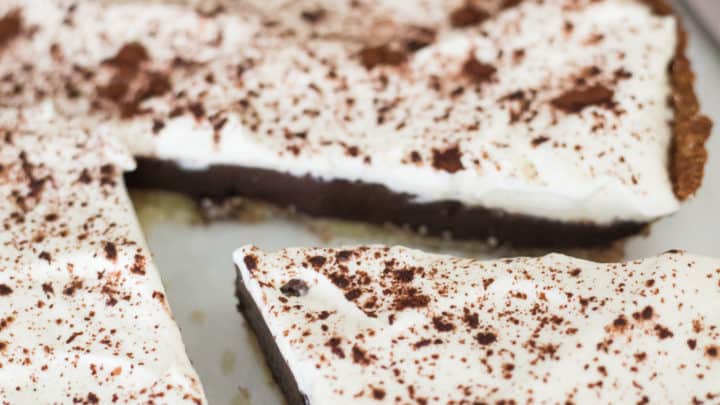 Yield:

8
Keto Chocolate Pie || So Easy
Crust Bake Time:
10 minutes
Pie Bake Time:
30 minutes
A decadent, delicious keto chocolate pie! No sugar, gluten, grains or almonds! Packed with flavour to satisfy your sweet tooth.
Ingredients
CRUST:
1 medium egg
1/4 cup (50g) butter - melted
PUDDING FILLING:
1 medium egg
2 medium egg yolks
1 cup (250ml) heavy cream
CREAM TOPPING:
1/2 cup (125ml) heavy cream
1 tsp vanilla
Instructions
First let's make the crust.
In a mixing bowl, whisk together the coconut flour and sugar substitute.
Crack in the egg and pour in the melted butter.
Mix thoroughly - you will have a crumbly dough that should stick together when you flatten it.
Transfer the dough to a greased 8-inch pie pan - mine isn't very deep, so if yours is, you may have to double the ingredients.
Press the dough into the pan to form a thin layer of crust along the bottom and sides.
Bake for 10 minutes at 400°F/200°C.
While the crust is cooking, let's make the filling.
Stir together the egg, egg yolks, sugar substitute and cocoa powder until the cocoa powder and sugar sub have dissolved into the eggs.
Add in the cup of heavy cream and stir until it turns a dark chocolate colour and it's been mixed thoroughly.
Once the crust comes out of the oven, turn down the heat to 350°F/175°C and wait for the crust to cool down a little.
When the oven has is down to temp - pour the cream filling into the crust and immediately put it in the oven (a better way to do this is to open the oven door, place the pie crust on a pull out rack and pour the cream in then - less spillage)
Bake at 350°F/175°C for 30 minutes. Check after 20 minutes to see how it is going. If the pie has set and there is a SLIGHT wiggle in the centre, you're good to take it out, but if it looks liquidy, keep it in the oven)
Let the pie cool completely before topping it with the whipped cream.
To make the cream topping, use a hand or stand mixer to mix the cream, sugar substitute and vanilla until it is stiff - it should hold it's shape when you take out the mixer.
Top the pie with the whipped cream and serve!
Notes
Enjoy! This makes roughly 8 servings.
Nutritional Information per serving:
CALS: 235
FAT: 22.8
CARBS: 5.1
FIBRE: 2.4
NET CARBS: 2.7
PROTEIN: 4.1