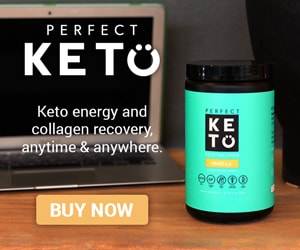 Use code HEDISCOUNT for 15% off all Perfect Keto (individual) products
November 2019
Links for recipes posted to the Hungry Elephant instagram in November of 2019.

A delicious keto cinnamon roll latte to keep you warm in the winter. Bundle up by the fireplace and enjoy this amazing keto drink.

Surprise your Sunday dinner guests with this perfect keto beef wellington. Perfectly crispy out the outside and a nice medium-rare on the inside. A British tradition!

The most magical cake around! You start with pouring in the chocolate cake batter, followed by flan mixture and it magically swaps sides during the baking process. This keto chocoflan has been HIGHLY requested!

Delight your guests with this amazing keto apple spice butter cake! Don't worry - there are no apples but it sure tastes like it!

Fusing stuffed peppers and tacos together for these ultimate keto stuffed peppers! Tastes like a taco but without all the guilt of a tortilla!

A cinnamon roll.. but as a donut! These are perfect and so fluffy. Gluten, grain and sugar free. This keto cinnamon roll donut is the best way to start.. or end a day!